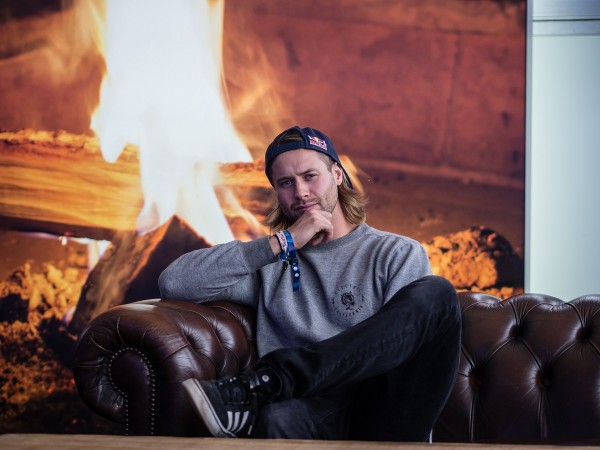 Photo Credit: Matthew Chuen
One of the best ever snowboarders to emerge from the British slopestyle circuit, Billy Morgan means business. This is the seasonaire who went on to become the first snowboarder ever to land a triple rodeo, and then a triple cork a year later. If that wasn't enough, he then landed the world's first Backside 1800° Quadruple Cork in April, breaking the 'quad barrier' and the internet simultaneously.
Billy started off in the world of gymnastics – something that obviously determines how he rides and gives him the creativity and ability to land those corks and rodeos. Here is a rider who effortlessly combines style with tech. Indeed, it is his own unique style that he brings to the world of snowboarding that means he can tweak tricks way above his contemporaries, and successfully master those big air tricks. In between landing a string of firsts, he also competed for Team GB in Sochi 2014 (where he placed 10th in slopestyle and was the first to put down a triple on the Sochi course). He's now on the road to compete in both slopestyle and Big Air in the PyeongChang 2018 Olympics.
We sat down with him to talk about that quad, his upcoming winter plans, and his new goal of staying under the radar…
---
So how did you get into slopestyle?
Well, I guess it just came hand-in-hand with getting into snowboarding really. I started when I was about 15 when I went skiing with school and my mate convinced me to try snowboarding and that was it. I was kind of addicted – I did seasons and then found myself here.
And what's your favourite trick?
I like backside rodeos – they feel good. They're quite blind as well so that you're kind of looking at the sky the whole time. It's pretty nice to watch the world go by…
What went through your mind when you landed that quad?
It was more relief than anything else. I'd been thinking about it for so long that it was good to get it out the way, you know? It was like "ah god I've done it!"
It's weird because normally, with all of the other times that I've done tricks, I've been really scared beforehand. But, I think I've got the point now where I've calculated the risk and know I'm willing to take that risk and just go.
I've already accepted the fact that I'm going to do it so there's no point in being scared about it, which is weird – I do miss the fear a bit. It's hard when you're not scared because you don't really know what's going on!
What do you think about that expectation now for you, or someone else, to land it in competition?
Yeah for sure [the expectation's] there. You know it's going to happen if they build a big enough jump at the bottom of a slopestyle course. Once that's done, then there's no reason why someone won't do it.
Soon, there'll be quads all over the place… I'm sure it won't take long until they'll be pretty standard procedure.
And you're pretty stoked that Big Air's going to be in PyeongChang 2018…
Yeah for sure! It means that I've got two disciplines to go for! Luckily, they come hand in hand with each other. You know, while you're practising for one, you're also practising for the other. Easy!
So you landed a quad last winter… What are your goals for this winter? Any more record-breaking feats?
I don't have any plans. I don't like to make too many goals. I'm just coming out of surgery, so my main priority is to get healthy and get my knee better so I can ride fully. I'm going to start practising for contests.
"I kind of want to stay under the radar but I keep doing these things that just don't let me! I'm going to try and be low key from now on…"
And when do you head out to get back on the comp circuit?
I'm heading to Breckenridge in December and that's when it all starts! I go out there for Christmas and New Year, then the European Opens is my first big contest.
What do you say to all the haters who said that snowboarding's reached its limit – in both style and progression – once you landed that quad?
These sports never reach their limits! There's always a different direction that people will push it and keep it going. There's always something new to do and a new way to add your own stamp and style to something. Until someone puts a limit on it – well, like more of a rule – then it will keep progressing. They've done that in a lot of other sports and ruined them, just by applying rules to them.
Is that your goal then, just to be a pioneer and break the rules?
Nah not really. I kind of want to stay under the radar but I keep doing these things that just don't let me keep under the radar! I'm not really doing too well with that task. I'm going to try and be low key from now on…
So, how have you been preparing yourself for the mountains, post-surgery? Any other sports?
I've been spending most of my time in the gym through rehab, instead of going for a skate like I'd normally do. But you know, skating's leg work too – instead of doing leg press, just go skating instead! 
Soon after surgery I wasn't able to do anything because my leg was so shit. For the first couple of months, I was in the gym like every other day and it kind of became normal. There was a lot of stuff that I had to do  [in the gym] and it was just boring, but now I'm allowed to do other things, like skating. 
You know, now I'm alright! Well, hopefully, touch wood! [Billy taps the table]. 
And what do you think you'd be doing if you weren't a pro snowboarder?
I was going to join the navy as an engineer! Things started going pretty weird for me as a teenager and I didn't know what was going to happen. I went to college, failed miserably, and then snowboarding came about.
I had a fun few seasons before I properly turned pro so it was all kind of a slow slope. It's not like I started snowboarding and was suddenly like "I want to go to the Olympics and be a professional snowboarder!" I was just doing it because it was fun, you know… And now here I am! 
---
Check out the day that Billy landed the world's first quad cork… and broke the internet!
---
More from Surfdome >