We hung with Columbian-born Globe rider David Gonzalez to talk skateboarding tips, having the fear, and being Skater of the Year… plus win his Globe shoe collab!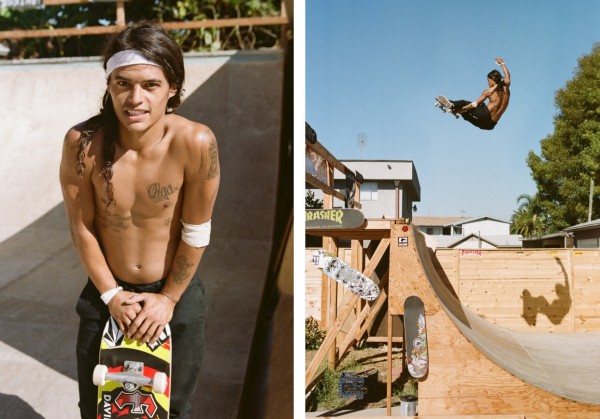 David Gonzalez, what have you been up to of late!
I've been travelling for contests! Mainly all over America.
Must be good to be back home (LA) now?
Yeah!
We're pretty stoked to be stoking your Globe Sabbath skate shoe at Surfdome right now… what inspire the shoe collab?
I wanted a shoe that was not too weird, not too crazy, that could be used for skating but also just to hang out in. I liked being able to design shoes my own way it was fun. It meant I could take inspiration from other shoes I was into and put that all together to make something that was really easy to skate in.
So you skate in them yourself?
I actually skate with them every day man! And wear them all day when I'm not skating, just to go out in.
Last year you were announced as Thrasher's Skater Of The Year – that's a pretty big accolade!
I didn't expect I was going to win it, so it was the best thing ever. I was so excited and I still am! I think if you work hard for something then you can get it. I worked pretty hard last year, not just to get it (the title) but to get good video parts and covers in magazines. So that's what I was doing and the award was the end result!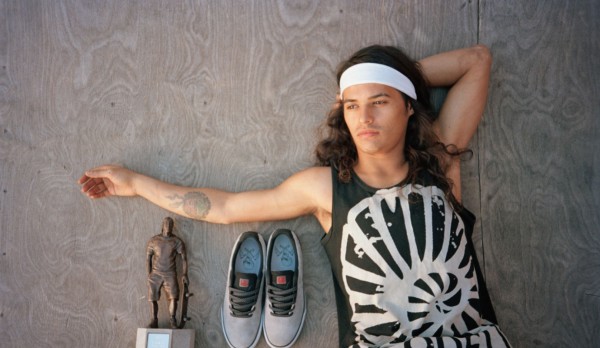 So what are your skateboarding goals this year?
Pretty much just contests, that's all I ever do! X-Games and Street Leagues, contests here and there. But next year I'm going to start working on another skate video – I'm going to do Possesed to Skate 2.
It must be pretty fun making videos and seeing the results afterwards.
Yeah that's actually my favourite thing about what I do, making movies.
What sort of boards are you riding at the moment then?
Flip Skateboards and 8.0.
I started skating myself last year so I'm a bit of a rookie! What advice would you give to guys and girls who are just starting out skateboarding?
First you just have to make sure you get your balance right before any tricks. You just want to go around the city or your neighbourhood and just cruise around until you get your balance and get used to having some speed. As soon as you can get your balance going it just feels fun. Doing a trick feels even better. So that's the advice I'd give to anyone starting out, just get your balance going, then start doing tricks after and you'll see how fun it is!
Cool, so get the basics nailed first, then hopefully in a few years..!
Yeah, right!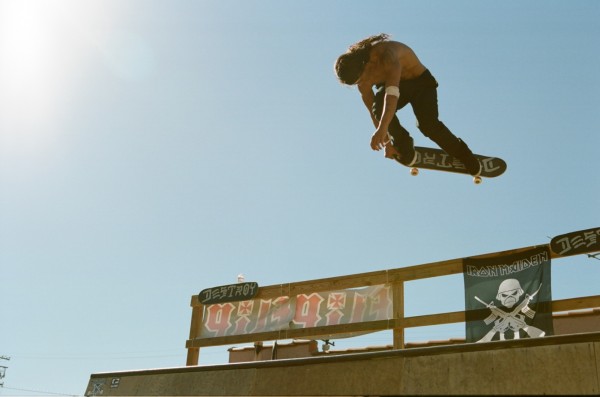 Do you ever get nervous when you're doing crazy tricks or skating something big?
Oh for sure. I don't know how to explain it, I don't even know how I do it. There's some stuff I know I can do, I can to some spots and think, yeah I can do these gnarly things! But there's other times when people say, yeah there's this gnarly spot and you should do it. They take you to those legendary spots and when you get there you're like woah, oh my god! People say, I think you can do it and that's when you're like ok, I'm going to try it…that's when it gets really scary.
Pretty epic when you pull it off though…
Ah yeah. I love the fear thing, it's good.
Sweet guitar I saw earlier, do you play much?
I actually have a band right now. We just did a tour around America two months ago with some skate bands. The band is called Ratt Black and we just started recently. We're playing a show 10th August in LA at a bands festival. I do it for fun pretty much, I wanted to start a band so I just did it!
Do you think it will ever become more than a hobby?
Yeah it's part of me really, just like skateboarding. Guitar is the same as skateboarding for me.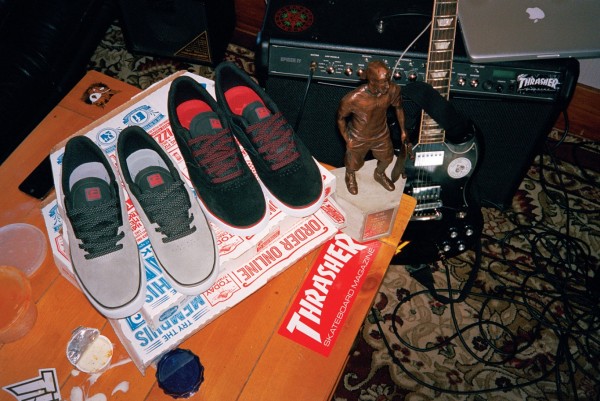 What's your perfect sound track at the moment then?
I mostly listen to punk rock, heavy metal, thrash metal and reggae. I play mostly rock music, blues, reggae, whatever. I just like to play guitar, so whatever music style as long as it's good on guitar, I'm into that.
You've travelled so much, do you have a favourite place?
Australia's pretty good, the skateparks are great. If the skateparks are really good then I'm liking it! That's the main thing. Also you can drink beer, it's pretty chilled and the cops are not that crazy. Europe is really good too but the skateparks are a different style. But I like that too. I like Amsterdam a lot. Copenhagen's also a good place to be and Barcelona's a great for skating.
Have you ever been to the UK?
Yeah! Three times actually. Flip Skateboards who I ride for is an English company. I went to London – I like London it's pretty tight, it's a good city. I also went to Liverpool as that's where Geoff Rowley's from, so we went to see his home town, his high school, everything.
Did you get to skate over here then?
Yeah! The first time I came over I was 16 and I remember just ripping every day, scars everywhere on my body!


You're always capturing the action on facebook and instagram, do you enjoy social networking?
I only started about two years ago, before that I didn't really care 'cause I just wanted to skate. But it's fun to talk to people that like what you're doing and want to buy your stuff. I like Instagram the most because I just want to post skate photos and pictures of people ripping.
This one's a biggie – what's your favourite meal at the end of a long, hard day?
Any steak with rice!
How do you have your steak; medium, rare??
It doesn't matter how it comes when I'm hungry! Any steak! Some chicken would be good, some soup, some beer. That's about it.
Sounds good! Thanks so much for taking the time out to catch up with us.
No worries. Take it easy!

 Want to win a pair David Gonzalez' Signature Globe Sabbath Shoes? Simply enter your details below and answer the question!:

> Terms and Conditions