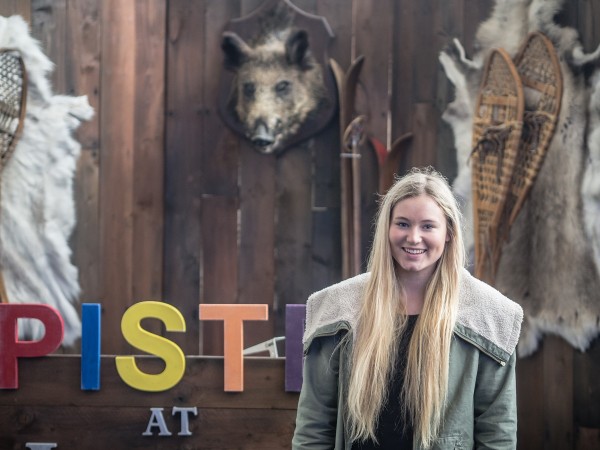 Photo Credit: Matthew Cheun
She's one of the world's most exciting up and comers and in her first event of the season at Pleasure Jam in Austria, Katie Ormerod is already crushing it. She took away a gold medal after landing a cab 5 to backside 7 relegating established stars Anna Gasser and Elena Koenz to 2nd and 3rd places respectively on the podium.
Not only is she fast becoming a superstar in British women's snowboarding, at just 18 years old she's taking the global snowboarding scene by storm. And it must run in the family being the cousin of Team GB teammate and cousin Jamie Nicholls. We spoke to her about all things slopestyle including gymnastics, lucky charms and being the first girl to land a backside double-cork 1080 at the tender age of 16.
---
Why did you choose to compete in slopestyle?
Because it's such a fun event! You can be as creative as you want, go over really big kickers and hit rails. You get to mix things up a bit, it's not just riding the piste. I'm a gymnast as well so it's [slopestyle] is kind of a mixture of both; you get to do spins and flips which is kinda cool.
You were the first female to ever land a double cork 1080, is there anything you want to be the next female to achieve?
Yeah, I'd love to be the next girl to land another world's first double cork- not sure what double cork yet!
Have you got any rituals or lucky charms when you're about to drop into a competition?
I never thought I did but then when I watch footage back, I always tap my helmet just before dropping in. I don't know why  but I seem to do that!
If you weren't a pro snowboarder, what do you think you'd be doing?
I reckon I'd probably be a gymnast. I couldn't see myself never being some kind of athlete. I'm really glad I'm a snowboarder because it's so fun.
Favourite place to ride?
I like Breckenridge in Colorado, and Perisher in Australia.
Favourite trick?
Probably a Back 7.
The scariest moment in your snowboarding career?
Probably when you catch the edge on the lip of a take-off – it's not a fun thing to do when you're upside-down in the air and you didn't mean to be!
What do you do in that situation?
You just have to think on your feet. It doesn't happen often but it has happened to me once. I was in Mayrhofen and it was so bumpy I just caught an edge on the lip and ended up upside-down off a pro-line jump. I just had to think as fast as possible and tucked my knees in really fast to make myself do a backie. Luckily it worked! I landed on my feet and not my head.
"You can be as creative as you want, go over really big kickers and hit rails."
With winter here, what are your plans?
Well the season for me started back in August. I was training in Australia where I had my first comp of the season and came 6th which I was quite stoked about! Then I'm going back to Austria [early December] and then America so there's going to be a few competitions around that time. I've got the Dew tour and I'm hoping to do quite well at that, then I've [just had] Pleasure Jam as well, so it's set to be quite busy!
How do you keep your body prepared for the mountains – are there any other sports you do to help?
Yeah, we have to do strength and conditioning quite a lot so I go to the gym, and because I injured my knee last year, I have to keep on top of that. Being a gymnast as well, I've balanced the two sports since the age of four. Doing gymnastics really helps to keep your body in shape and is great for spatial awareness and muscular strength which really helps.
So are you travelling all the time now, chasing the snow?
Yeah basically I'm away quite a lot from now. Last year I left school and injured my knee so had to do rehab full time, but now I'm snowboarding all the time. Since August I've only been home for a week. I don't mind it though because it's so fun – you get to travel the world with your best friends and snowboard every day. It's the best!