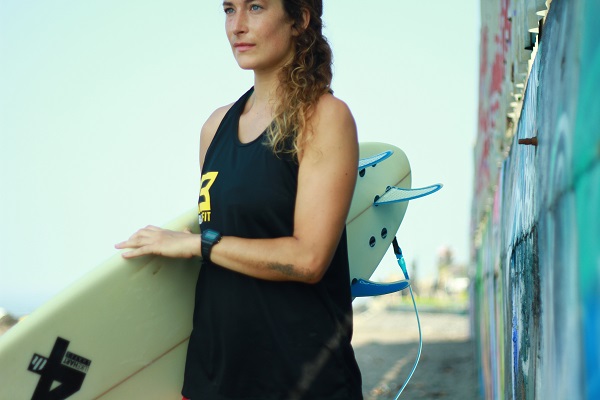 Photo credit: Bali Fit
She sure is an inspirational woman: founder of Yoga for City Surfers, ambassador for Roxy, a sick surfer and generally an awesome chick (trust us we've hung out with her). Born and bred in Oxford, Lucy Foster-Perkins is making up for lost time away from the sea and living every yogi and surfer's dream in Bali.
And throughout January she'll be releasing a series of yoga videos to motivate and inspire your new year fitness goals. The best bit? They're all shot in Bali. Oh, and they're also absolutely free!
From the comfort of your home you can get surf fit and yoga fit… with a no jet-lag guarantee (although we're pretty sure you'll be wanderlusting within seconds). She'll also be guest blogging for us, sharing her stories and top tips on all things travel, yoga and surf. Can't wait to get going? No worries – check out Lucy's first in the series Chest Power.
We caught up with her to find out about her journey from land-locked dancer living in London to free-spirited yogi and sunrise surfer residing on a small Indonesian island.
---
Why is yoga so important for surfers?
I've found it initially helped me so much with my surfing strength, coordination and flexibility, but I later discovered how it helped with my breathing and focus as well.  Among many things, yoga also asks you to confront your fears, to understand them and to relate to them differently, which is also hugely relevant to surfers and anyone who does extreme sports.  The physical practice of yoga is only the tip of the iceberg, but it's an awesome start if you've never done it before!
When did you start surfing?
I first surfed when I was 16 with my brother but didn't really get going until my 20s.  I would dash to the coast in Devon and Scarborough when I was training and working as a dancer and fell more and more in love with it every time I went. I decided enough was enough and I changed my career from dancer to yoga teacher so I could surf every day.
What's your ride?
I ride a 5ft 9 Doofer surfboard (by Fourth Surfboards). I love it as it works well in a range of swell conditions while I travel around, but if I could travel with a quiver I'd have a thick, fun, single fin shortboard and 9ft nose rider to practice my headstands!
Can you tell us a bit about your relationship with Roxy and how you came about becoming an ambassador for them?
I got to know Roxy through Surfdome (thank you!) when Surfdome asked me to teach at their pop-up shop in Old Street.  Roxy had taken over the shop for a week and I taught a yoga class for female surfers in the city every morning.  
Roxy were stoked to hear about my Yoga for City Surfers class in London and my work with yoga and surfers abroad.  I was really encouraged and excited to see that Roxy was growing, maturing and reaching out to all the Roxy women out there, not just girls, and our relationship has grown since then!
This summer, I taught the yoga for their #runsupyoga events in Newquay and Jersey, which was so much fun and I've held a number of Yoga for City Surfers classes at their showroom in London.  I usually surf with a lot of guys because there aren't as many girl surfers as there are guy surfers, but there's nothing like meeting other girls who are also stoked to surf, skate, snowboard or whatever sport they're into and encouraging newbies to give it a go!
Life before Roxy, surfing and yoga?
I was a professional dancer in London and Austria before I was a yoga teacher. I loved dancing, and I miss it still, but I didn't love the ups and downs of being "a dancer", or being away from the sea so much.  
I wasn't allowed to do any extreme sports when I was training or in a dance contract, but I'd often sneak off to wakeboard, surf or skate and then make up stories about where I got my bruises/aching arms from when I got back!
What took you away from this life to transition into a life of being a full time yogi and surfer?
I wanted to surf more! I also wanted to pass on what I had discovered about the connection between surf and yoga to other surfers.  There are so few jobs as a dancer so you take whatever you can, and although I was really lucky with my jobs, I never had a choice of when or where I was next working; it was just up to who offered you a job.  
It was hard to plan my life further than 6 months at a time and I'd often found myself going to auditions for dance projects I didn't even believe in. It felt both scary and liberating to change everything and to go with my heart. It was the best decision I made and I've been much better at listening to my heart since.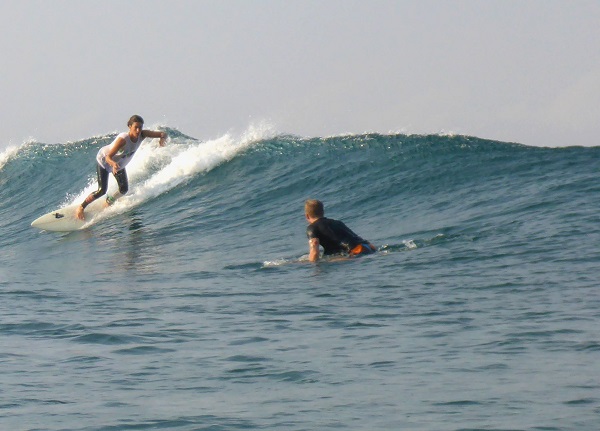 Photo credit: Soul and Surf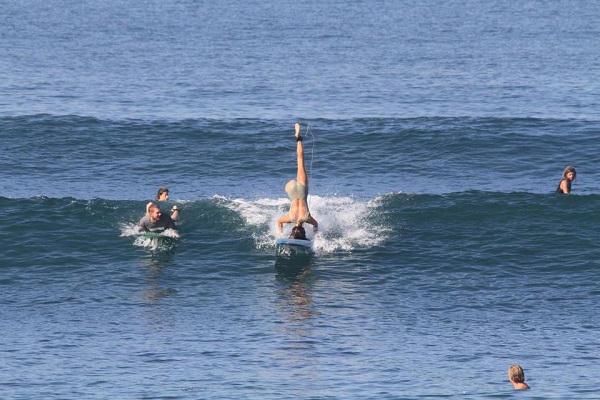 Can you tell us bit about how Yoga for City Surfers was born?
Yoga for City Surfers started the week after I graduated as a yoga teacher.  I'd been offered a yoga job at a surf camp in France so I wanted to start teaching surfers straight away before I went.  I hired a hall for 3 hours to hold one class for surfers and one class for "normal" people. I tentatively put the word out to London's surf community and the response was huge and it was clear I'd have to make both classes for surfers to be able to fit everyone in!  
After 8 weeks of busy classes, I decided to keep them going while I was away and it's been growing ever since.  I've taken YFCS to Dubai and Bristol and have teamed up with another Roxy ambassador in Sweden – Sofie Ringsten – to have the classes in Stockholm as well and I'm now looking to extend the concept to other cities around the world!  This year was YFCS' biggest year, with over 1000 students in the classes and I'm always stoked and humbled to teach the awesome surfers who come to the classes when I'm back in the UK!
You're currently living the dream in Bali. Can you tell us a little about life in Bali and what took you there?
Like most people, I feel in love with Bali the moment I stepped off the plane last February.  It's hard to explain, but Bali has a feeling, an energy, a calling that draws you in and will have you coming back for more! I already knew I wanted to come back to live and work here before I left and I was so lucky to be offered the job at Bali Fit, a fitness training centre for individuals and athletes in Canggu.  My days in Bali are pretty busy, but it's full of things I love – surfing, teaching, creating new online classes for surfers, exploring the island and being with friends.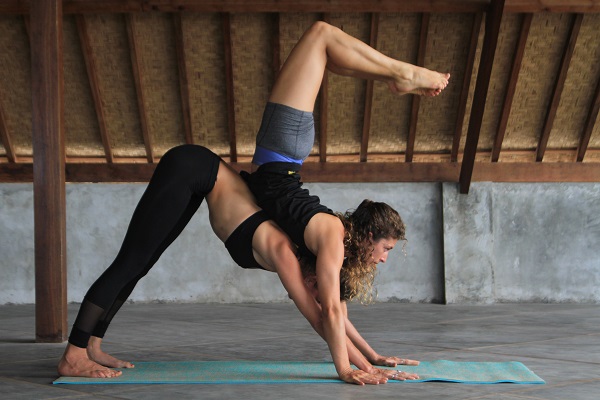 Photo credit: Bali Fit
And Bali Fit where you teach now?
Yes I teach Yoga for Surfers, Warrior Flow and Yin Yoga at Bali Fit to bring a different element to their training programs.  Their main program is called Training For Warriors, which is an intense workout program that incorporates strength training, interval training and improving your coordination.
We have people from all backgrounds coming to train at Bali Fit, from recovering and training athletes to individuals, who want to really improve their fitness. I've been joining in with the TRW training sessions and have already noticed a huge improvement in my overall strength and cardio.
It's so awesome to be part of the team and to be able to train so regularly, which has been hard to do when I was working in India, Sri Lanka and Sumatra. Bali Fit is just about to boom.  The programs and support they offer to their clients is top-notch and I'm stoked to be a part of it.
What does the future hold for you? (Do you even have or need a 5 year plan?!)
It's hard to have an exact plan with my work, but I'm really excited to see where it'll take me next. I'm getting better at going with the flow and I'm actually really enjoying being in one place for once!  I love working with the clients and athletes we have at Bali Fit and I'm able to work on my online yoga classes for surfers while I'm here… so it looks like I'll be in Bali for the next 1/2 year at least!
I've got plans to extend Yoga for City Surfers to other cities across the world and to release more online classes over the year, which I'm sure will give me a reason to go back to Europe, which I'm also excited about. Oh! And I really want to learn to freedive. I think it'll be really mentally challenging, but I think it'll teach me a lot about fear and how our brains react to it. Hopefully, it'll help me cope with bigger wipeouts too when I'm surfing, which is always useful!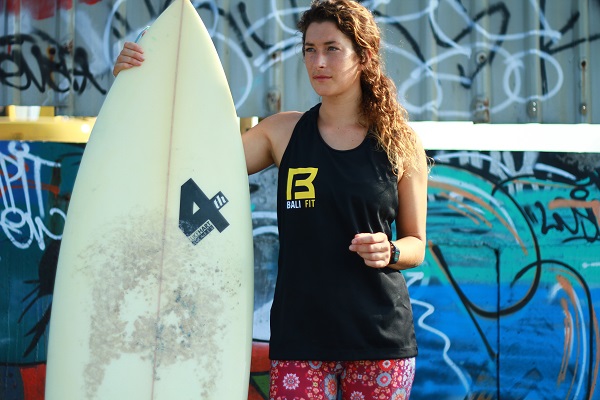 Photo credit: Bali Fit
---
Catch up with Lucy in our exclusive online four-part yoga series – all shot in dreamy locations in Bali and all completely free. Consider it a new year motivational gift from us! Get ready to paddle out with her first class Chest Power. So, what are you waiting for? Unroll your yoga mat, push play and find your zen.
---