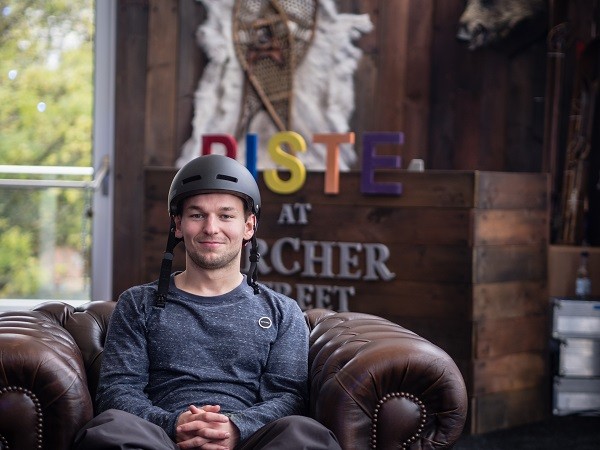 Photo credit: Matthew Chuen
Murray "Muzza" Buchan grew up in the rather quaint city of Edinburgh and at the mighty age of 8 stepped onto the local dry slope. And as they say, the rest is history. It wasn't long before a young Muzza was getting some attention and recognition from local skiers that then lead to Buchan being picked up by his first few sponsors. Then came the results and Murray started to establish himself on the UK scene.
At the age of 14, he travelled to France to compete in the British Championships and ended up winning all four events in the under 14 category including the big air and halfpipe. Fast forward to 2014 and Murray was on the plane with the rest of Team GB to Sochi for the 2014 Winter Olympics. Not only was it the biggest stage that Buchan had ever competed on but the conditions were hard, really hard. With incredibly heavy snowfall, Murray was able to put in a solid first run without falling and nailed the second run with steeze and flow. He finished 17th and was absolutely stoked on the result. Murray is now looking towards qualification for the 2018 Winter Olympics in South Korea. We met up with him to talk all things freestyle ski, his favourite trick and that Olympic debut.
---
So you specialise in halfpipe freestyle, what was it that attracted you to that rather than other types of skiing?
To be honest, I'm not too sure, I found it quite appealing because it's 300m long and you can hike it and you get five or six jumps. Whereas, slopestyle is a long chairlift lap and you only get a couple of jumps in it. Half pipes are harder to come by but when you get a good one, it's so quick to keep progressing and doing jumps, in comparison to the really long wait time in slopestyle. Other than that – just all aspects of it I really enjoy – I just do slightly better at freestyle so I stuck with that.
What qualities do you think you need to make a good half pipe rider?
I think you have to be a really good skier so you could have really good aerial ability but if you can't actually ski the half pipe well you'll struggle. That would be the most important quality – being a really good technical skier.
You made your Olympic debut in Sochi, what was that like?
It was amazing! It was probably one of the best experiences so far. The crowd, the support, the competition: just the environment it was in was mind-blowing. Biggest scale of anything I'd ever done before.
Is there anything you're going to take from that to go forward into future competitions?
Yeah, hopefully I'll make the next one in Pyeongchang, I use it quite a lot in terms of experience – teach myself not to get overwhelmed by everything because. It's such a big scale and there's so many people, so I'd feel like that can take more of a back seat and really focus on doing the competition.
What's your favourite trick?
Front flip – everyone likes a front flip. Or a back flip!
Front – is that harder?
Yeah front flip is harder – you've got to go over your noses. Back flip you can just come off of your tails.
More danger?
Yeah more danger! It's really easy to catch your tips on a back flip, but on a front flip you can land on your back if things go wrong.

And how do you stay fit in the winter throughout the season?
A lot of gym work, a lot of trampolining, and a lot of skiing! I try to look after myself as well, see the physio and stretch a lot.
And are you on a strict diet as well?
Noooo!
So you mean Macdonalds for breakfast, lunch and dinner?
It has been done! Nah, some people are really conscious about what they eat and I'll try to eat well. But when the time comes to indulge I'll go there. Kebabs – anything. 3 o'clock in the morning? I'll take it all!
Finally, what are your plans for this winter?
I've been out in Breckenridge [Colorado] since the beginning of December training. Usually we'd stay out over Christmas but this year I'm home, then head back out to Colorado at the start of January until the end of February. It might be Colorado, might be California and then Park City because there's three world cups at the start of the year so I'll go and compete in those in various resorts. After that, I plan on going to LAAX in Switzerland for training and competing but we'll see where things lead. 
---