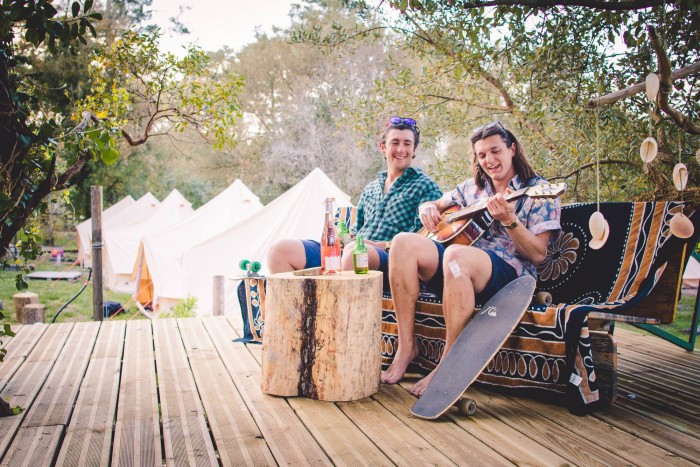 So, you've swapped the sunbed for a surfboard and a beach towel for the yoga mat. Your 'Out Of Office' emails are activated and you're ready to head into adventure. Yes, whether you're escaping somewhere short-haul or long-haul, summer 2016 is all about diving into a fitcation – think surf camps, yoga retreats, week-long adventures and active escapes.
But what's it like being the person behind the fitcation – when you've left the 9 to 5 routine behind to set up a surf camp in the South of France, complete with surfing, yoga, outdoor cinemas, live music, hammocks and tents? Well, to find out, we caught up with Star Surf Camps founder Joe Hobson to discuss what it's like running a 'fitcation', the rise of the active holiday and how surfing and travelling have played their part in paving the Star Surf way of life.
Star Surf Camps was founded by three best friends Joe, Sami and Pablo. Wanting to share their love of surfing and travelling to a wider audience, they launched a small surf camp in France in 2009. Fast forward to today, and they now operate surf camps, yoga camps and stand up paddle camps across five continents with an international team and a growing number of customers who choose seven days of adventure over a week of lounging by a pool.
---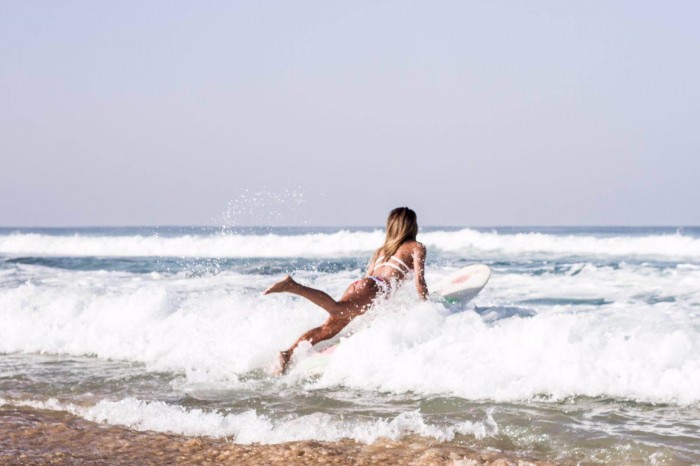 How did Star Surf Camps start and what sets you apart from other surf camp holidays?
We have been running for 7 years now… it's crazy how time flies! We were three mates at uni who just wanted to surf and travel as much as possible. The idea of a 9-5 job scared the hell out of us so we decided to do our own thing and launch our first surf camp!
It's the passion, fun and enthusiasm that set us apart from the crowd very early on. We love surfing, good food and travelling and feel honoured to get to share this with so many people each week in our camps.
How much did travelling influence the idea for Star Surf Camps?
There's three founders of Star Surf: Sami, Pablo and myself. I grew up surfing in Bournemouth, Sami grew up surfing in Dubai and Pablo in the Canary Islands. For Sami and myself, travelling was an essential part of developing our own surfing skills, (we actually met travelling in Indo before meeting at uni). For us, travelling was essential to improving our surfing and that's an ethos that continues today through all Star Surf Camps. It's important to visit locations suited to your ability and that allow you to progress to where you want to be!
Pablo's story is much different. Pablo was fortunate to travel the world to surf representing his country. He had to make the hard decision to leave competitive surfing to start Star Surf, but he still gets his competitive fix whenever we get to surf together! Our different backgrounds allow us to bring a unique perspective to the table. Our camps are geared to cater for complete beginners, just like the stage I was at when travelling and surfing, and when I met Sami. We also cater all the way through to travelling pros who just need a decent feed and a good night's sleep…and all close to perfect waves of course!
People are starting to realise that the best way to be healthy and active is to exercise with a fun, healthy activity, while allowing you to enjoy the perks of a holiday.
You guys offer so much more than just seven days of lounging by the pool. Why do you think more and more people are choosing these 'active' holidays and fitcations?
We are blessed that such a wide variety of waves and holiday destinations are just a stone's throw away from the UK. This means that your standard "surf holiday" can be as unique as you want it to be: surfing and a mountain trek in the Atlas mountains perhaps, or surfing in the morning and yoga in the afternoon in a Spanish nature reserve, or, how about following a surf with a wine and cheese tour in Bordeaux?
Like most people, my 9-5 job is in front of a computer screen. I'm not a health freak and I do occasionally like the odd beer or two, but for me it's all about balance. The demands of most people's jobs and lifestyles often require us to balance out the daily grind with an active holiday, focussed on having fun! This is the central part of the holiday: staying active and having fun, but you can of course do this without having to go to a retreat and only eating raw food. 
People are starting to realise that the best way to be healthy and active is to exercise with a fun, healthy activity, while allowing you to enjoy the perks of a holiday like the local delicacies or the odd ice cream, guilt-free!
What advice do you have for someone who wants to go to your camp for a week of surf and yoga, but perhaps hasn't tried them yet/ is at a beginner level?
We specialise in beginner and intermediate surf holidays. I remember when I was learning to surf that I always afraid of getting in people's way, localism, and the cool kids! You won't find an ego at Star Surf – just a good bunch of people that are proud to introduce others to the lifestyle we love and in a safe and professional way.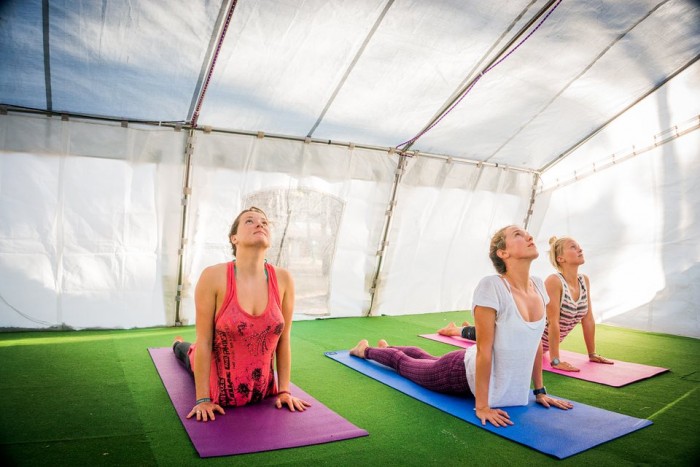 Your surf instructors and staff are renowned for being so passionate. How do you find them and what does this passion bring to the table?
We are so fortunate that our staff find us! We rarely advertise for staff and if we do it's due to last minute changes of circumstance. We treat our team well and we live together in the surf camps for up to 6 months at a time, so it's important that we all get on well.
We perhaps aren't the most organised and that's part of the charm. It's a team of friends having the summer of their lives and making sure that everyone who joins us is having the best time possible. The thirst for fun, passion for surfing and good vibes are infectious. The camps are a happy place for happy people and you feel this the moment you step foot into a Star Surf Camp.
So many "surf camps" lack passion, lack personality and lack the love for surfing that we hold dear. We may be 30 minutes late with dinner, but that's not a problem because we made you put your wetsuit on and join us for a surf too!
Which one of your camps would you recommend for someone looking for their annual surf trip?
It really depends what you're looking for. Some guests join us year on year to the same camp, often visiting a few times in a summer! They become part of the family and prefer to see the same team members they have become friends with over the years.
However, Moliets is a great camp for surf and partying. It's active but not necessarily the healthiest of choices as we are surrounded by bars and ice cream parlours! Carcans is our surf and yoga camp nestled in the pine forests near Bordeaux. This is a great option for a more relaxed environment…without compromising on the fun!
Santander is our newest camp: family-friendly and packed full of activities. We are a surf camp but we also offer SUP, bodyboard, cycling, yoga and excursions. Fuerteventura is our most luxurious camp, where we offer a range of self-catering apartments, a catered surf lodge and a B&B. We have our own surf school right in on the seafront overlooking a beautiful lagoon. For beginners, summer is awesome here with small waves and great weather. In the winter, it pumps and there's no place I would rather be! 
And how about for the solo traveller – what advice do you have for them when heading to one of your camps?
Come and join the fun! We have solo travellers from all over the world who come and join us. We try and encourage all guests to arrive on a Saturday and stay for at least a week. That way, everyone is thrown into this big multilingual, international melting pot on the very first night. Most camps cater for 50-100 people so theres always someone that you're going to get on brilliantly with!
We see that there's a massive importance on letting people 'experience' the surf lifestyle. Can you explain what a day at one of your Star Surf camps could involve?
Our job is to teach you to surf safely, make sure your holiday is as good as it can possibly be and make sure that we meet our daily responsibilities. What makes our "job" fun is doing this with style and passion.
We wouldn't do this unless we truly loved surfing and the lifestyle that comes with it. We take care of the important and boring bits with your holiday so that you can live the true, care-free surf lifestyle. All you have to do is turn up! We make sure you're well fed, having a great time learning to surf and leave with a smile!
What do you love most about your job?
We work hard but I genuinely believe that surfing can be a real positive influence on people's lives and I'm honoured to introduce people to surfing for the first time. Through our work we get to work with amazing charities like SAS, Waveproject and McMillain. On top of this, I get to go surfing, talk about surfboards and can spend my day being a surf nerd and getting paid for it.
We work hard but I genuinely believe that surfing can be a real positive influence on people's lives.
What's the most challenging aspect of your job?
The service industry can be hard at times. You need to have the passion to truly want everyone to have the best possible time in your care. And we genuinely care. This means that we are always first up in the mornings, last to bed, and always juggling logistics to make sure that everything runs smoothly. It can be extremely stressful, but it's worth it! Our job is to also teach you to surf safely. This is paramount in all surf lessons and takes priority over everything else!
What's your top pick for summer 2016?
It has to be Moliets! It's the camp we are famous for and where we built the business from. It's our home from home. However, it isn't everyone's cup of tea, which is why we have taken the best of Star Surf and changed it to suit a different style of holiday in each camp. Life's more relaxed in Carcans with surf and yoga that's suited for those wanting more relaxation in their surf trip. Santander is family-friendly.
The best part of seeing the business grow over the years is seeing guests join us for a few years in Moliets and then go to Carcans as they leave their student days behind. Even a few have gone onto Santander when they started that chapter of their lives!
What's next for Star Surf Camps? Is there another country that you guys have your eye on?
Haha, that makes us sound like we are trying to conquer the world! We are looking at a few options for the next couple of years, but we're keen not to rush into building more camps too quickly.
It's a fine balance between growth and enjoying where we are and what we are doing! More camps mean more work, which is good for business, but what fun is that if we don't get to go surfing? Let's wait and see…
Prices start from 349 Euros pp including food, accommodation, yoga and surf lessons. For more information visit Star Surf Camps.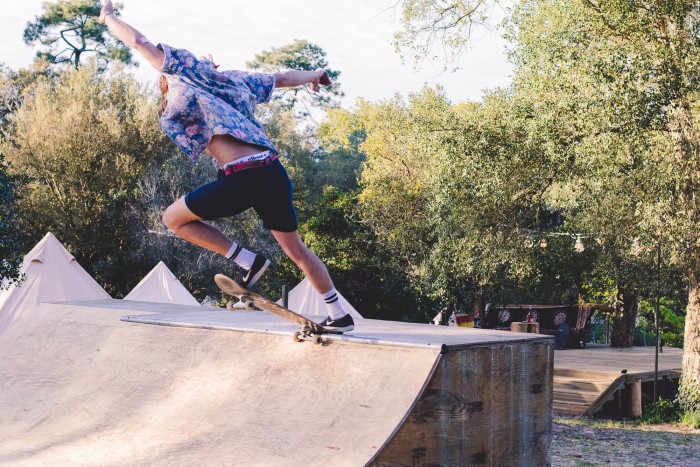 ---
Wondering what to take with you for your fitcation? Check out our handy guide with:
 Adventure Calling: What to pack for your fitcation? 
---