Stefani Nurding has been causing quite the stir. At 25 years old, the Devonshire native has taken snowboarding, skating and surfing all under her wing and it's safe to say that athletic ability comes naturally. Half pipe, slope or swell, Stef has conquered them all and she's got plenty of stories to tell. A few minor Twitter spats and the assumption that girls should stay away from skating hasn't held her back though, and she's more than proven her worth in a predominantly male environment. Here at Surfdome, we caught up to discuss everything from fashion to Sweden, Animal and more…
 
Good to meet you, Stefani Nurding! You had a great performance at the last Get Set Go in Malmö; any plans to return?
Definitely, one of the main influences on my skateboarding was going to the Tosabidarna Camp in Malmö with Gilly Segrave, it was so amazing to see so many girls there of all abilities. I love going to Sweden and I've been every year since.
 
How does the European skate scene differ to that of England?
Except for the obvious differences in weather, I think all the  scenes I've encountered are really similar. Everyone shares a common interest and it's easy to make friends wherever you go with skateboarding – that's what I like about it so much.
 
We've caught wind of your many talents but if you had to pick out of surfing, snowboarding or skating, what would you go for?
Ahh that's such a difficult question! I was going to say snowboarding because I started it first but then I realised I actually started surfing first haha. My mum would drive down to Newquay and she'd just chuck us in whatever the weather. We had no idea what we were up to at all, it was so ridiculous. Back to the question though – sorry to be boring but I just can't choose!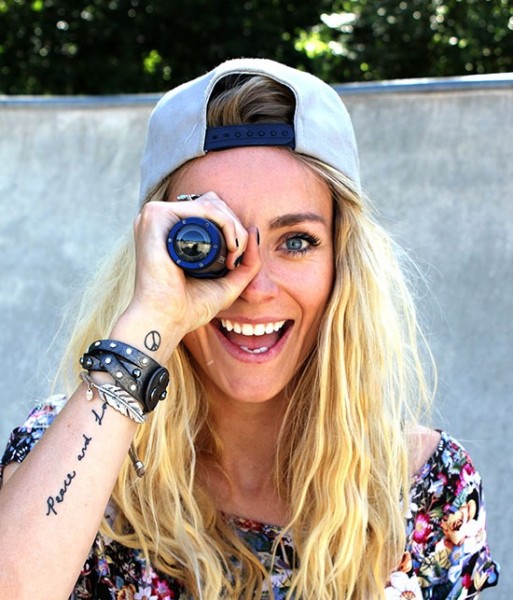 Fashion also seems to have piqued your interests. What clothing brand would you most like to collaborate with?
I'd take Chloé anyday – I think all of their clothing is beautifully simple. I'd love to own a branded jacket or handbag! Also, I'm actually going to be working with Animal over the next six weeks in their womenswear department. I'm really excited to see how everything runs and getting some experience in a real design setting, plus I'm really interested in sustainability and hope to apply some of this to my work. I'd work with any brand where I can be creative and care about sustainability!
 
What legends in the sporting and fashion world do you look up to and why? 
I watched the Danny Way movie recently, I found it really inspiring how he had had such a difficult life and how he put all of his energy into skateboarding. His jump over the Great Wall of China, I mean whaaat. There are too many people I'm inspired by for me to think of a paragraph about each: I'd feel bad if I left anyone out. I'll just say anyone who puts a lot of energy into what they do and has a positive outlook on life.
 
It seems like you have an insane work ethic. How do you maintain all your boardsports and art interests alongside university study?
I'm blessed/cursed with waking up super early and I can never sit still. I love being really creative so it just comes naturally and I don't even notice I'm doing it as I enjoy it so much.
 
Nice video. Have you had much experience working with action cameras and how do you think the iON camera stands up against the rest? 
I'm actually a bit of a gadget geek and I've tried quite a few of them and the iON camera is definitely one of the easiest to use. The main thing I noticed was how straight forward it was, no confusing settings and the record vibration feature means that you know the film is rolling (so to speak) without having to look for a blinking light. The fact that it's waterproof without the need for a casing is awesome, especially if you're a bit clumsy like me. It's perfect for filming absolutely anything; even somebody with no experience would find it easy to use!
 
And finally, where's Stef Nurding going to be in 10 years?
I have no idea – and that's exactly how I like it! Life is full of surprises and you can't plan for anything, hopefully I'll be happy, healthy and doing what I love, which is all you can ask for.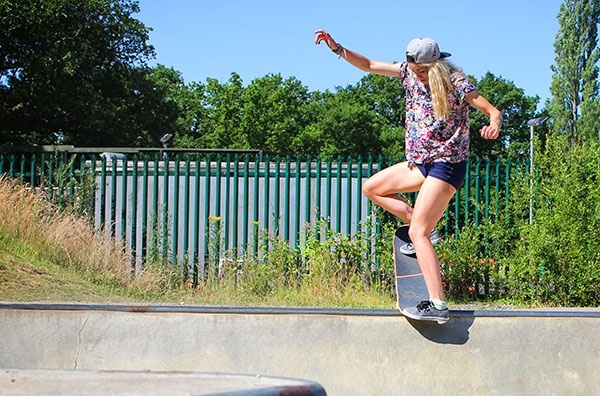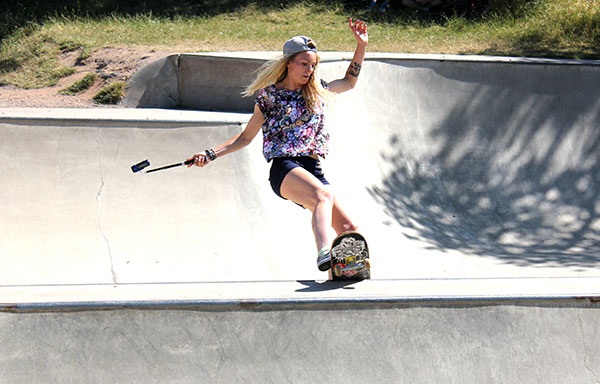 Stef Nurding – Get the Look
As one of Animal's sponsored riders, Stef is always in possession of some pretty sick threads. The combination of casual skate apparel with feminine florals is extremely on-trend without compromising your originality. Ladies, break the mould of baggy tees or shorts and bring a little high fashion to the halfpipe today.