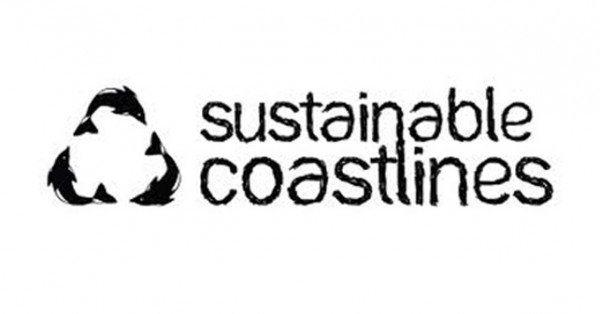 Sustainable Coastlines Hawaii have their work cut out, with 750 miles of stunning and diverse, ecologically rich coastline to stand watch over. This awesome organisation, headed up by the super driven Kahi Pacarro, carry out amazing work, engaging with local communities, school kids, tourists and some of the best surf contests in the world to work on solutions to the marine litter crisis.
Ever wonder where that plastic tray your lunch came in or that plastic bottle you just drank out of goes? Well, the answer is; pretty much anywhere! No one can say for certain where our trash will end up and as we are all connected by waterways and ultimately the oceans, yes your rubbish could feasibly end up on the beaches of Hawaii.
That very plastic is what Kahi and the team at Sustainable Coastlines Hawaii are dealing with daily!
We managed grab hold of Kahi as he was wrapping the effort to make sure the beach at Pipeline stayed clean during the Volcom Pip pro.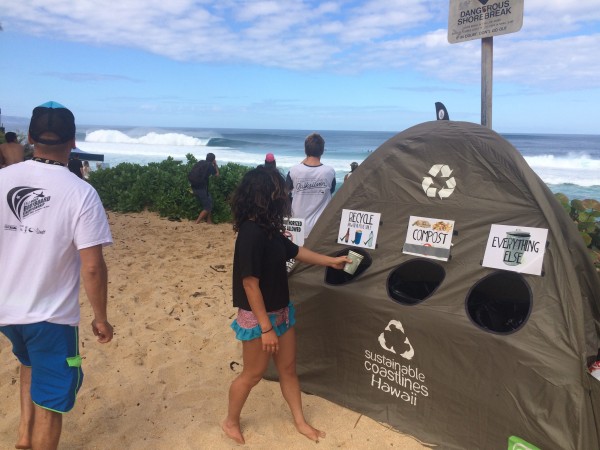 So the new educational container was a success at the Volcom contest. For those of us that do not know, can you give us a little insight? 
The educational container, or Education Station as we like to call it, is a mobile classroom made from an old shipping container. It is our chance to give a little education but also bring communities together by showing surf films on the big screen on the top. It brings everyone together to learn but to also have some fun.
How important is it to work with the next generation? 
Engaging the kids is a key focus. There is a great sense of achievement when you get to an end of a presentation and their minds are blown, but from this, they can influence their parents. By learning about the impact plastic bottles and various other packaging has on the environment, they can put the pressure on to stop them purchasing and using. It is nice when both parents and kids have had their eyes opened.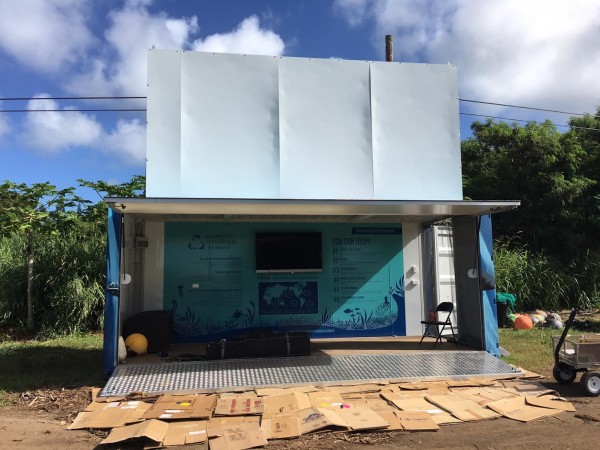 We all know the shocking truth surrounding marine plastic and you seem to keep the SCH message fun & engaging. How important is it, do you feel, to present a solution rather than highlight the problem?
Looking at the fun aspect, it is hard to get people motivated when you run a Community Service Programme. People see this as giving up their free time which isn't everyone's idea of a great time. When you add the element of fun  they become more engaged and without realising it, they have learnt how to be a part of it.  It's like they didn't realise the message had got through to them as they were enjoying themselves. Adding stuff like having lunch without and single use plastics or competition give-aways of reusable bottles, they put into practice tools and information they have learnt and adapt it to a daily routine. The main focus is how do we inspire people to continue the momentum?
Not only for the next generation but for the wildlife and the thriving tourism that come to see our beaches. It may seem sometimes counter-productive to be constantly removing marine trash  only to have more appear. Imagine the beaches if we didn't keep this momentum going, they would be uninhabitable.
Not only is Hawaii the world's surfing mecca but also a dream holiday destination with a hugely diverse ecosystem. How frustrating is it to see marine litter arrive on your shores? 
The biggest thing to do is not to point the finger as we are all to blame here. It is easy to get frustrated but it's easier to take that frustration and become inspired, not just individually but as a group.  Some of the things washed up on the shores have travelled for thousands of miles. Look at the chain as a whole, we have the consumer and the choices you make. In this, we have the packaging, the waste, the recycling and the amount finding its way to our sea's.  We can start reducing and refusing single use plastics and we should.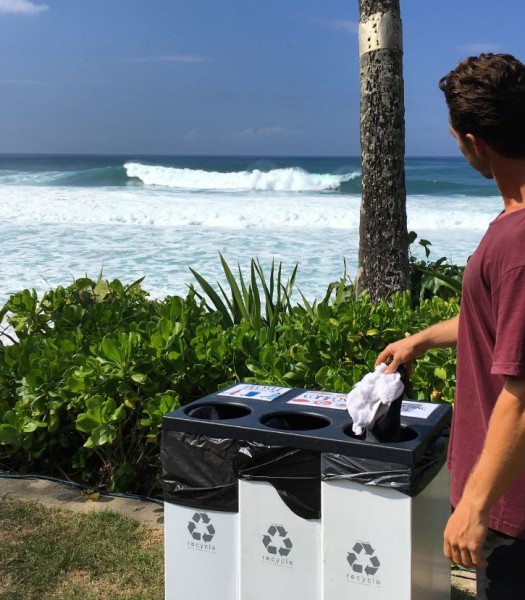 We are on a mission here at Surfdome to eliminate plastic and have already dropped 19 tonnes annually. How much responsibility to you place on companies over individuals for the marine plastic issue?
We should be sending a worldwide message supporting the companies that are sustainable and think about the amount of waste they produce.  This is an opportunity to show other businesses what can be done and how they can be more responsible…but do they look at the bigger picture? Do they look at the products as just the item inside the packaging or do they look at it as a whole? Does the shirt they are selling need to be in the sealed poly bag with plastic tags? The way we see it, the product is more than just the content within the packaging.
They have no cost of the waste that they produce from the packaging and as consumers, we just use and dispose of the emptiness without thinking of the consequence. Is the solution that as consumers we return our waste back to the manufacturers so if anything, it gives them an eye opener?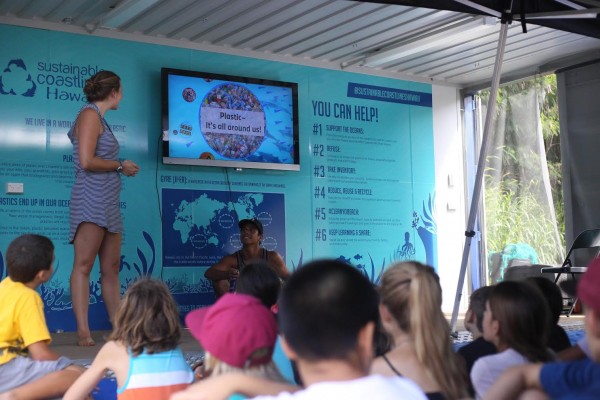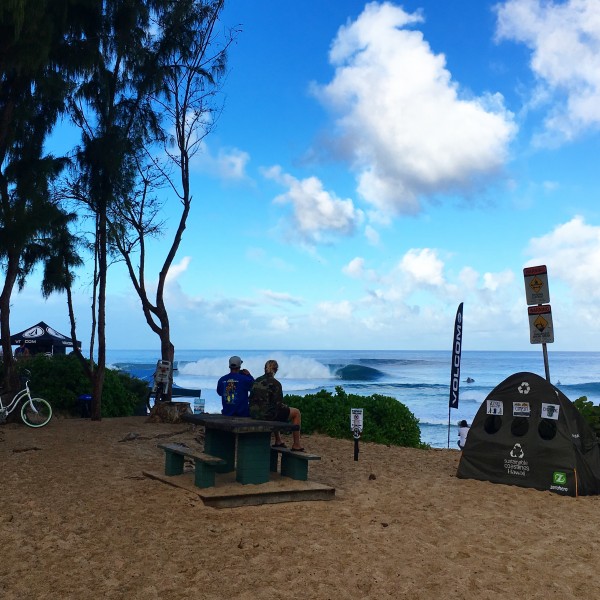 Marine plastic is often dubbed as 'The world's most solvable problem'. Do you think we can?
The answer to this is not looking at the beach cleans or the river clean up but to look directly at the industry. The question of  if we are fighting a losing battle has always been there. For every ton of debris we pick up there a ton to replace it, we might not be able to beat it but we can slow it down. there is a great quote from Charles Moore who brought to light the Great Pacific Garbage Patch:
"Cleaning the ocean is like trying to empty out the bathtub when the taps are still running"
Finally, What's the weirdest thing you have found washed up?
We did discover what appeared to be some part of either a spaceship or some kind of satellite, definitely, some kind of space debris found floating in the water.  As it was made of aluminium it was extremely light so it was floating but who should have to deal with that?
And the most common item found?
In Hawaii, the east facing beaches and some of the most popular, face the trade winds. This is where the most debris is washed up. The south facing beaches tend to have waste left by humans during the day, which then finds its way into the sea. The most common thing found, and not just on Hawaiian beaches, we are talking worldwide is?… Cigarette butts.
We do not have much control on the trash coming in from the sea but we can control the debris we produce and leave behind. The awareness at the Volcom pro diverted 74% of its waste, that's 540 pounds of compost and 464 pounds of recycling, which would have otherwise ended up as normal waste.  With companies like Sustainable Coastline and with guys like Kahi Pacarro spreading the word and reaching out to communities to get involved, isn't time we starting taking a look at home and seeing if wee can make a difference… it's something to think about.
---