The tragedy of bycatch and what we can do to help.
I was in Ireland recently. We went over to visit family, take some pictures and surf. It was a great trip. The surf was pumping and the sun was shining and we had a great time exploring Ireland at its finest. On one of our last days we met up with a friend, Andrew Malcolm to do a spot of dolphin watching at a place called Ardmore on the south coast.
It was great to spend time with Andrew on the clifftop but rather saddening to follow him while he performed a brief autopsy on a common dolphin that had been washed up on the local beach. We've all heard about bycatch – the accidental catching of non-target species by fishing nets and trawlers – but it isn't until you get to see it at first hand that it really hits home.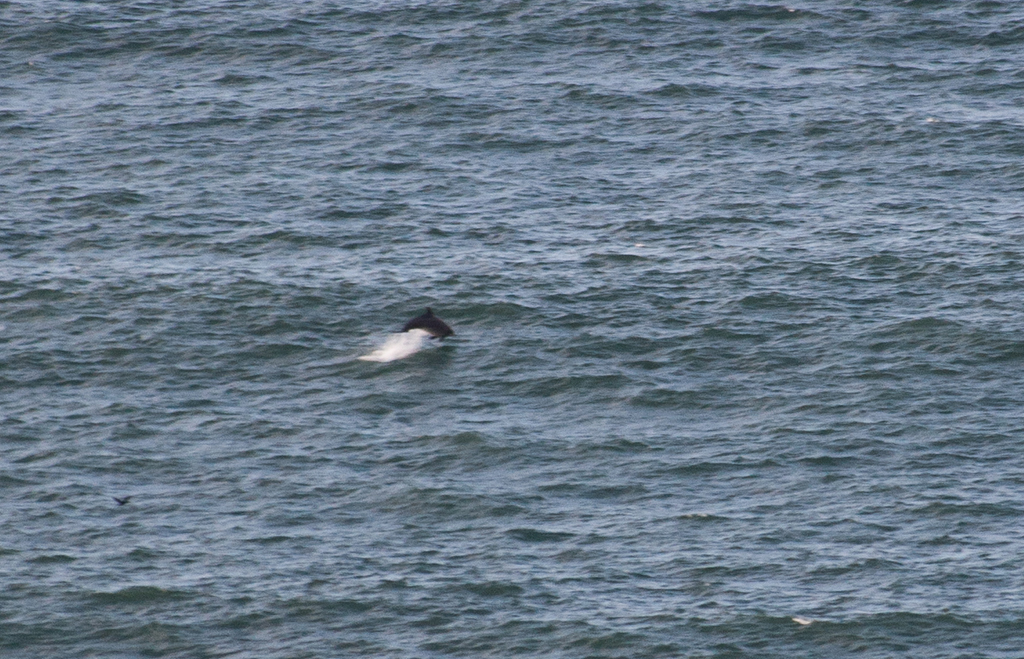 Dolphin encounters in Irish waters
I've had some incredible dolphin experiences in Ireland. I have watched Funghi the famous friendly dolphin in Dingle. He followed a dive boat I was on a few years ago and I had the chance to see him underwater. He was magnificent. A few years later, while surfing Easky right I had a wonderful encounter with a pod of about 50 bottlenose dolphins as they cruised past the break. I was the furthest outside so they completely surrounded me. It was a terrifying but exhilarating experience. On our recent trip, we saw a bottlenose dolphin performing jumps and twirls for no one in particular as we were driving down a lonely coastal road. We felt lucky to have seen it.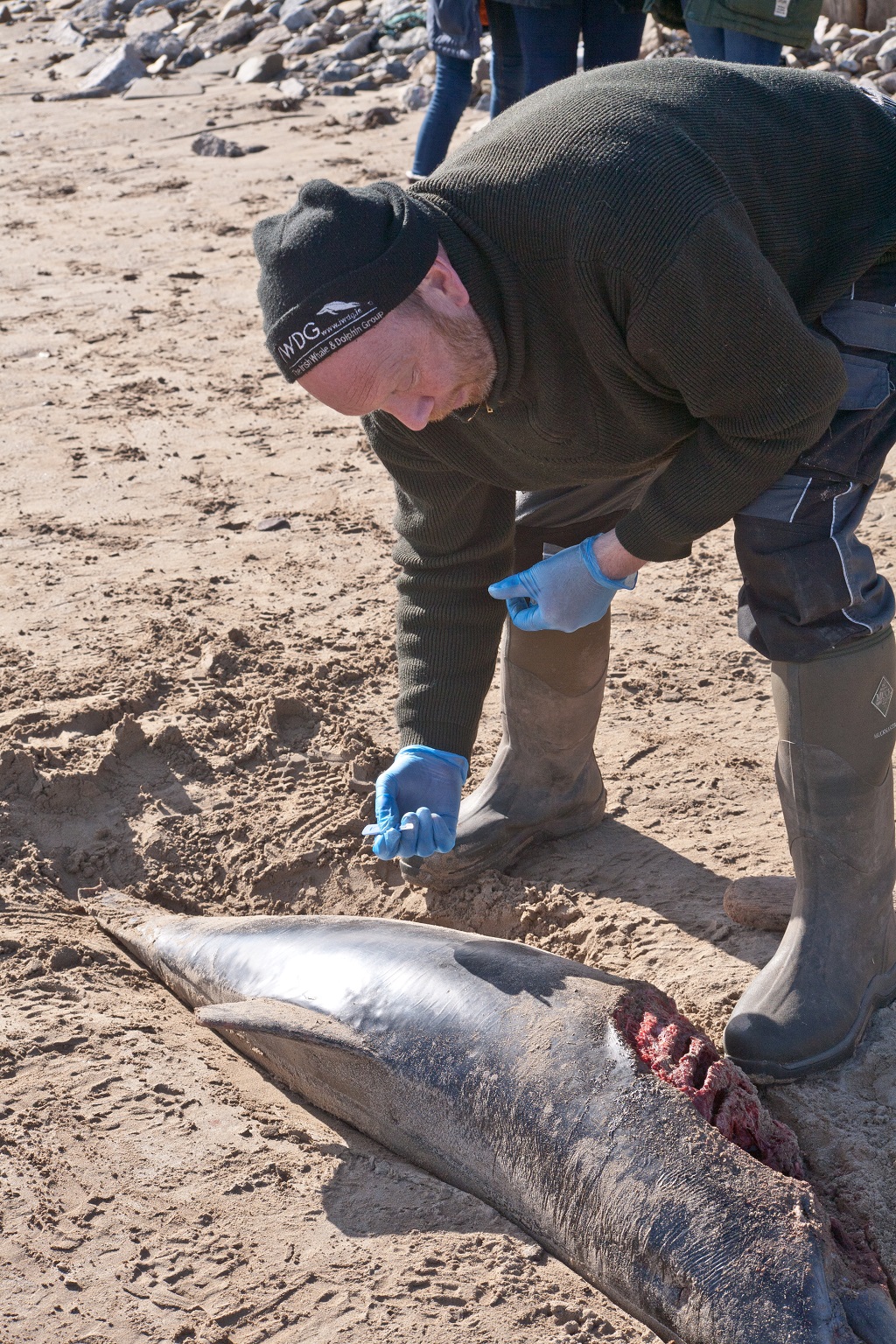 The dolphin autopsy
It was extremely distressing to see this part decomposed dolphin on the beach in Ardmore. Andrew, as local IWDG (Irish Whale and Dolphin Group) representative and spotter,  had the onerous task of recording the dolphin, taking skin samples, working out what sex it was and then arranging for its disposal. Incidentally, the way to tell if a dolphin is male or female is to look at their undersides. If they have one slit with two side slits on either side (rather like a division sign) then it is female. Our dolphin was a young female. Sadly she will not go on to breed and the world has lost another beautiful blood line.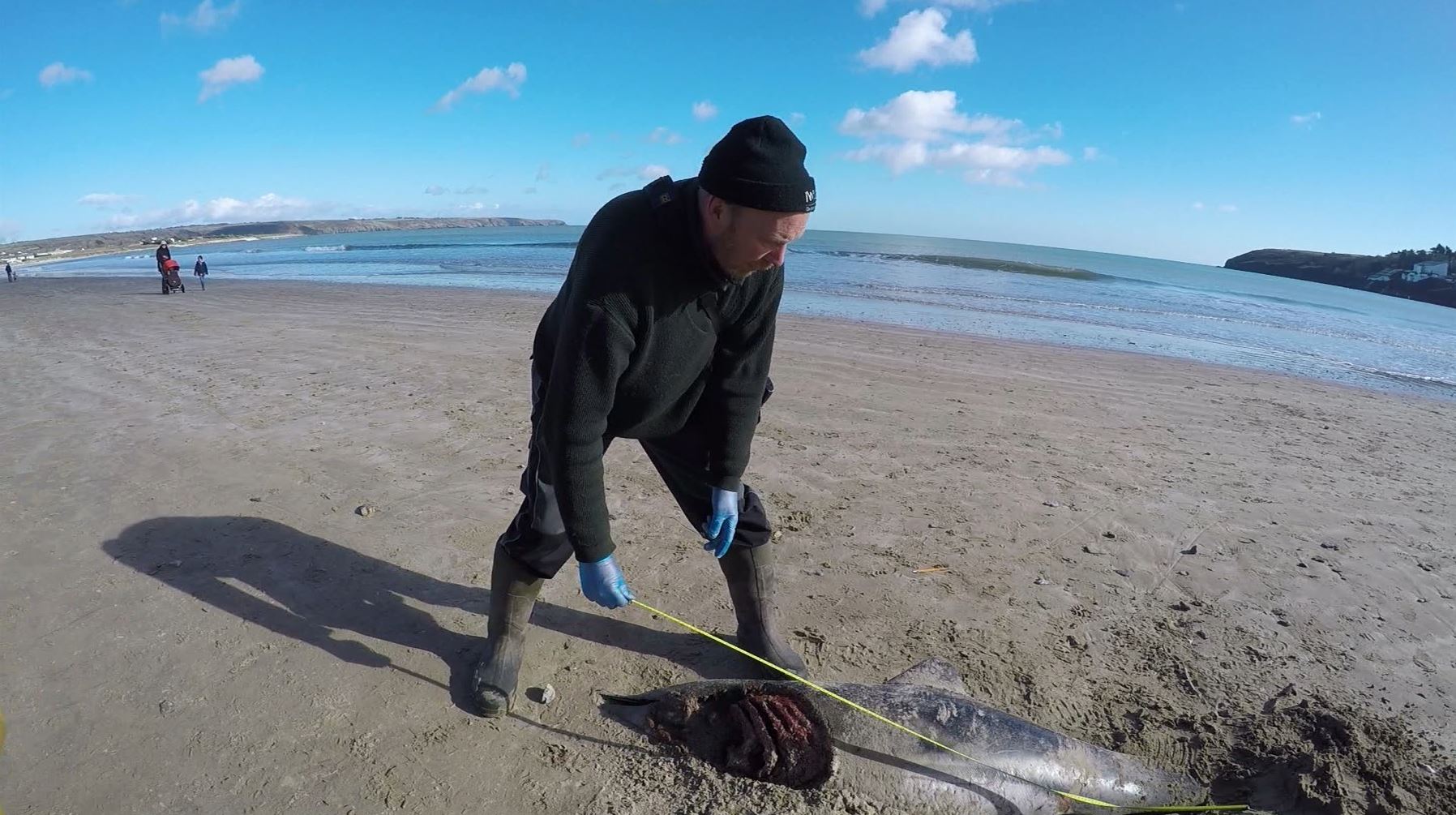 How to tell if it's bycatch
When Andrew began to measure the dolphin we noticed that the tail had been completely but cleanly severed and the fins were missing. Andrew explained to us that this was a sign that it was a victim of bycatch because it meant that the dolphin had been cut from a net after it had died. Untangling them from nets at sea is often difficult because they struggle to get away and get themselves more entangled. Then they drown. So once they have died they are cut from the net and thrown back.
It's gruesome to think that this is happening.
A record number of dolphin deaths in Irish waters
This year, off Irish waters, there have been a record number of dolphin strandings as a result of bycatch. Between 1st January and 11th March there were 36 recorded common dolphin deaths (with thanks to the Irish Whale and Dolphin Group  – IWDG – for the stats) . This might not sound like many but it's important to remember that dead dolphins (or whales) don't always make landfall. Many of them will perish before they get anywhere near the land. So this number could be just a tiny fraction of what's been caught and killed. It's also just one of many cetacean species in Irish waters. From a report by the IWDG during the period of strandings author Mick O'Connell wrote: "There is little doubt that trawling is at least partially responsible for the increase in deaths of common dolphins and, even as I write, some of the world's biggest factory trawlers are fishing off Ireland".  And it's not just in Irish waters. According to the Whale and Dolphin Conservation group (WDC) more than 1,400 harbour porpoises died in UK fishing nets in 2014.
Bycatch – what's the issue?
By catch is a big problem for fishing. More so for whales and dolphins. They get caught up in all kinds of nets and lines every day. They also get caught in 'ghost nets'. These are nets that have been lost or discarded that continue to fish even though no one is there to haul in the catch. Once entangled cetaceans (and seabirds and fish) drown. Even if they are hauled in alive, very few survive being thrown back. There are laws against it and methods such as employing 'pingers' to warn whales away from nets, but not all nations comply and laws differ in different waters. In the Mediterranean, for example, where driftnets are banned by the EU, Sperm whales still die each year because of illegally used drift nets. I mean, who is to know what's going on at sea if there's no one around to witness, record or report it?
Bycatch levels are often unsustainable, which means that if it continues the species, whether whale or dolphin, will not survive. Some species are already at dangerously low levels.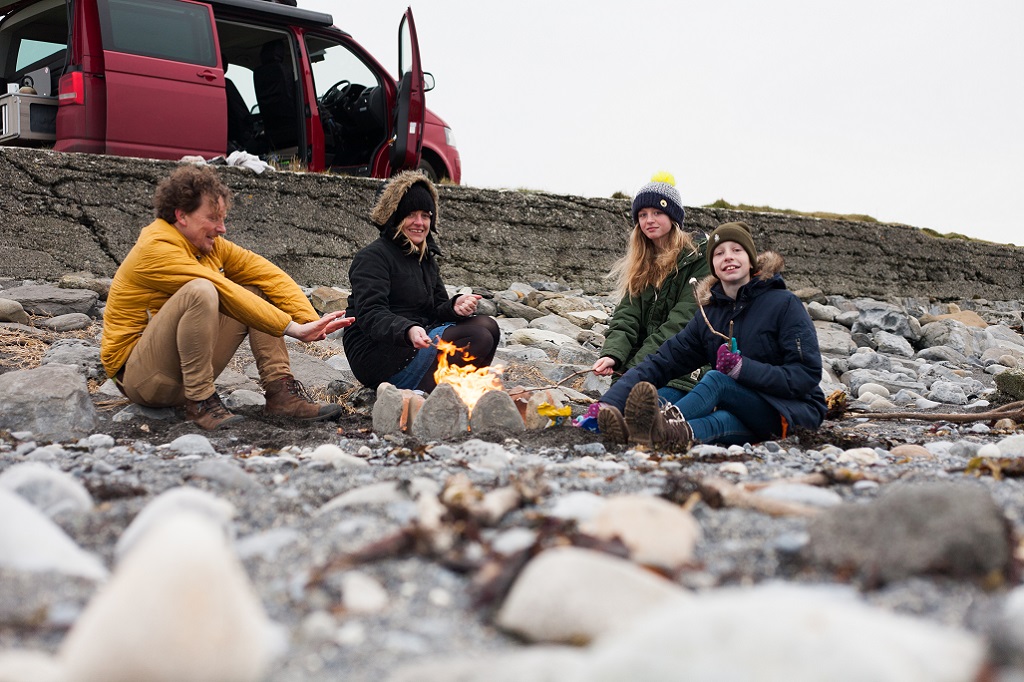 What can you do to help?
You might not think it but you can make a difference when it comes to bycatch. When you eat fish you can make careful choices about what you eat and how it has been caught. Pelagic trawling (which drags nets along the bottom and can destroy ecosystems) and purse seine net trawling (where entire shoals are surrounded by nets) can be particularly bad for dolphins as they can often get entrapped while feeding on the fish in the nets, despite the use of pingers. As a general rule though, line caught and locally caught fish from inshore fisheries are better for marine mammals than large offshore factory boats that take out entire shoals. It's also better for the species you are eating as it's much more selective and sustainable with less chance of bycatch.
Good fish make a difference
In the UK the Marine Conservation Society provides help in the form of the good fish Guide. Using a traffic light system, it shows which fish and seafood are the most sustainably caught. It's available at www.goodfishguide.org.  If we all stopped eating fish caught using unsustainable methods it would soon stop! As Debbie Crockard from the MCS told me, "We often see the biggest changes come about because of consumer choice." So it does matter.
Incidentally, the notion of 'dolphin friendly' tuna has been challenged recently, so the only way of knowing if it really is will be to buy pole and line caught tuna – a much less destructive method than purse seine netting. You pay more for your conscience, but it's only a few pence…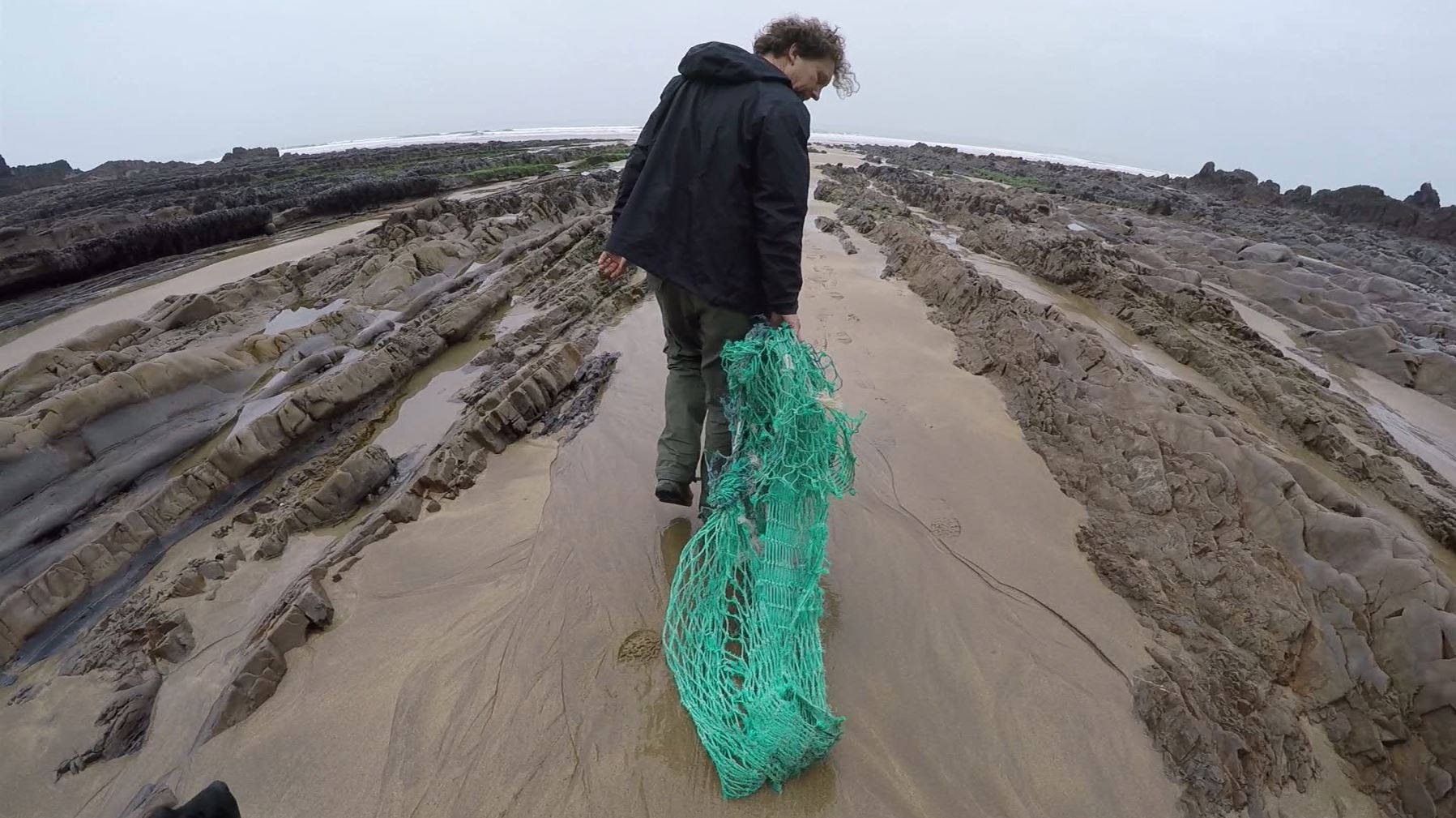 Picking up after your surf will make a difference too
When you visit the beach you can help too. Every time you go to the beach you can do your bit to remove nets and rope with a #2minutebeachclean. If they get washed out again they pose a threat to all sea mammals and fish so getting them out of harm's way will ensure they won't go on to kill.
Similarly, if you find a big piece of ghost net and can't remove it, at least try to move it above the high tide mark where it's out of harm's way. If you are in the UK it may be worth talking to Surfers Against Sewage as they may be able to collect it for recycling.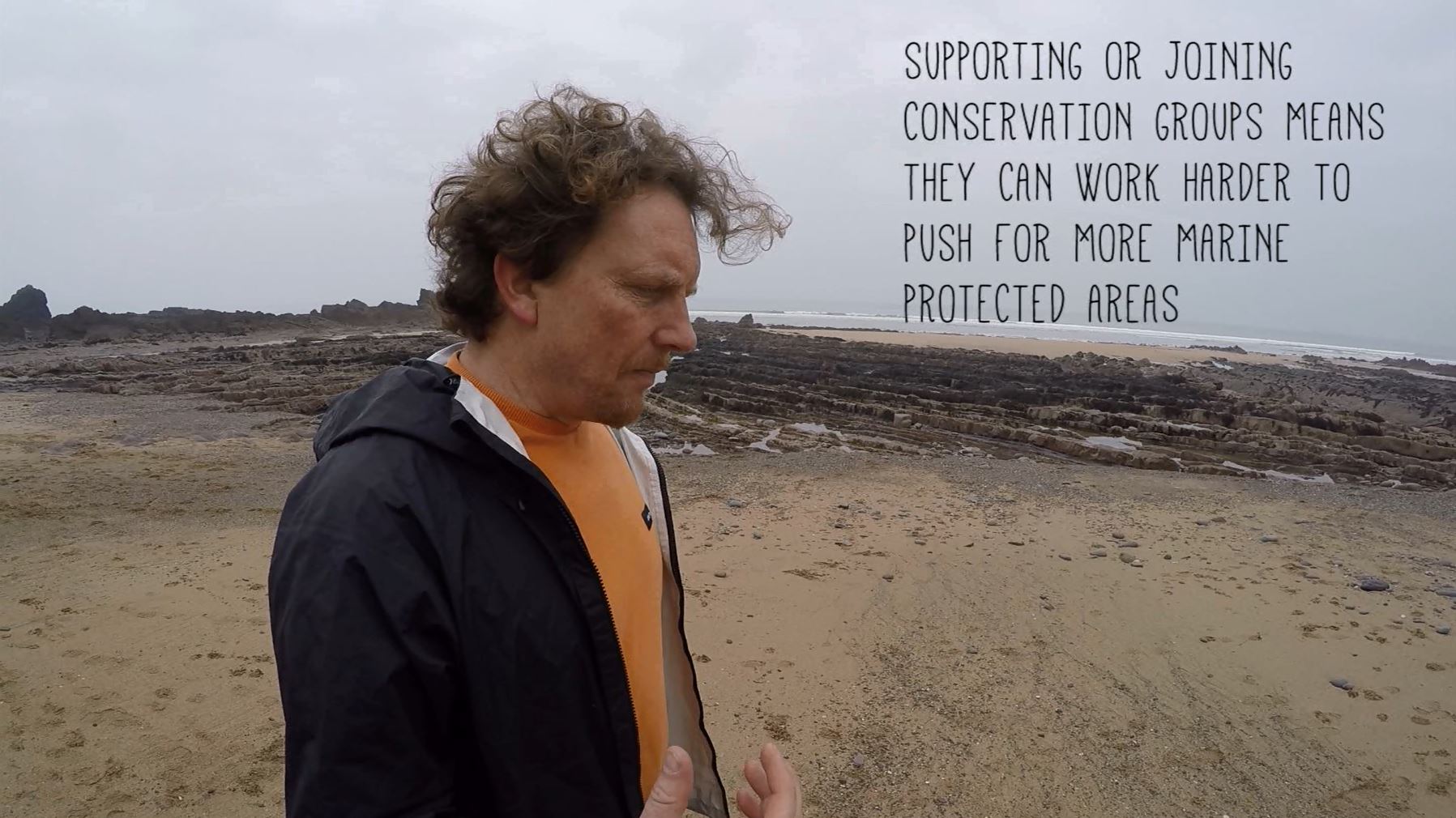 Supporting conservation groups can make a difference too
Finally, you can get involved in supporting Marine Protected Areas. These are areas where fishing is banned. They are often chosen because they are a breeding ground for sensitive species or because they are migration routes for cetaceans. The more of them there are, the better for stocks of fish as well as the general welfare of the oceans. You can join groups that support these types of projects and that campaign on your behalf for more marine protection.
The Irish Whale and Dolphin group say: "What we'd like to see are independent observers on trawlers above a certain size to establish the facts first – what fisheries/vessels are doing the worst damage to what species. When the facts are known, then mitigation measures need to be looked at to lower the unwanted effects as much as possible. So we need to raise a stink to get observers on board to get the facts so we can raise a stink about the damage being done!"
So, if you are looking for a fight, go see your MEP and your MP or write letters to the supermarkets asking them to reconsider their buying choices. They will soon get the message.
You can make a difference!
---
More from Surfdome