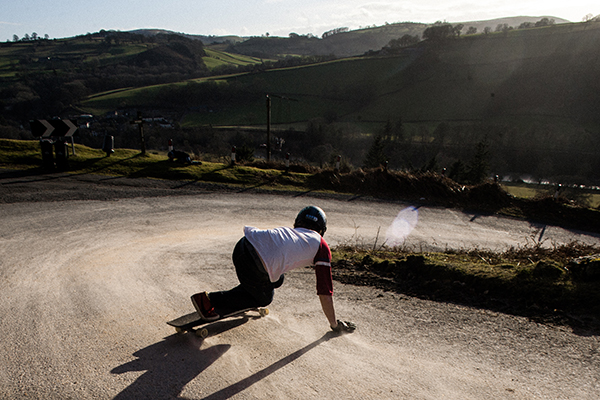 The feeling of gliding on four wheels is amazing, but for some the small deck and hard wheels of a skateboard can be off-putting and uncomfortable.
With its longer wheelbase for stability and soft wheels for smoothly traversing rougher ground and gripping corners, a longboard might be just what you're looking for.
A longboard doesn't just have to be for cruising either! There are a great many disciplines to be enjoyed on the skateboard's bigger cousin such as – Dancing, Freestyle and Slalom, Freeride and sliding and even downhill racing.
Armed with the technique to stop safely, and with the necessary protective equipment a longboard can be used for hassle free commuting and exhilarating fun.
---
Cruisers
Cruisers are versatile boards that provide a great cross-over from regular street skateboards. Perfect for urban commuting, cruisers tend to be small enough to be unobtrusive on those morning tube rides. They generally feature a kick-tail, allowing you to still pop the board and come fitted with soft wheels for maintaining effortless roll-speed and great manoeuvrability.
 


Dusters Flashback 
Features:
Length: 31 inches
Width: 8.25 inches
Wheelbase: 16.5 inches
Deck: Custom V-ply top with wood burned logos and clear broadcast grip
Trucks: 5 inch Slant trucks
Wheels: 62mm x 51mm, 83A wheels
Features: 1/4 inch riser pads
With a look that emulates classic cars and old school motorcycles, the Flashback Cruiser is a stylish mid-sized board with a retro twist.
Designed to deliver the same ride as a longboard but without the extra length, this board is ideal for beginners learning the basics.
 
 
 
 


GoldCoast Slapstick 
Features:
Construction: 7 Ply Canadian Maple & 1 Micro Ply Exotic Wood
Length: 31 inches
Width: 8 inches
Wheelbase: 14.25 inches
Wheels: Burnout Wheels, 57mm, 85A
Trucks: Century 129mm Trucks with matte black powder coat
Bearings: Goldcoast Custom ABEC 7 Bearings
Bushings: 90A Bushings
Risers: Century 0.25 inch Flat Risers
Featuring an arrow graphic on the natural wood ply, the Slapstick board is engineered to go wherever you wish. Equipped with high performance hardware, this board provides a responsive ride with sharp turning.
Let's not forget the kick tail which lets you show off your favourite tricks with style.
 
 
---
Pintail
Great for carving mellow hills or pushing along the sea-front. Very relaxed ride with lots of space for your natural stance. The design is very surf heavy with a lot of shapes drawing on retro surf for inspiration.
 


Osprey Skate Arrow 
Features:
Best Suited For: Beginners and advanced alike
Perfect For: Cruising and getting from A to B
Shape: Arrow pintail shape to avoid risk of wheel bite: perfect for testing those carving skills
Concave Deck: Adds security when going at speed and easy to push when going a distance
Specs:
Width: 40″
Length: 9.6″
Wheels: 69mm x 55mm 78A PU Cast White Wheels
Bearings: ABEC 9 Chrome Bearings
Construction: 7 PLY Canadian Maple
Trucks: 7" JJ7 Trucks
Santa Cruz X Star Wars Boba Fett 
Features:
Trucks: High quality Road Rider 180mm
Wheels: Star wars branded 72mm, 78a durometer
Width: 9.9″
Length: 43.5

Santa Cruz x Star Wars Longboard
Boba Fett graphic
Cut outs to reduce wheel bite
Santa Cruz skateboards™ and Lucasfilm™ have teamed up to bring you a new collection of exclusive boards. Release your inner bounty hunter and try not to get eaten by a sarlacc.
 
 
 
---
Downhill/Freeride
Specialised for going fast, these boards can have different truck mounting methods that lower the board to the ground, like drop-through or drop-down. Wide foot platform for keeping your feet locked in at higher speeds.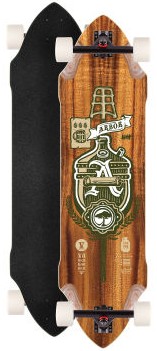 Arbor Vugenhausen 
 Features:
Deck: 9ply maple with Arbor premium wood base
Arbor decks are created using Eco-friendly water-based sanding sealers
Trucks: Caliber 50 Caliber 10.0"
Width: 184.0mm
Baseplate Angle: 50 degrees for better turning
Bushing: ultra-high rebound 89a Blood Orange barrel & cone combo
Wheels: 71mm
Durometer: 78a
Bearings: ABEC 5 with spacers
Artist: Eric Waetzig
The Vugenhausen is ready for speed and a race level performance. It ensures superior traction as a well as a stiff, symmetrical pattern for incredible superior turn and drift control. It also offers a locked-in performance thanks to the micro drop and rocker.
 
 



Mindless Maverick DT II 
Features:
Length: 44 inches
Width: 9.75 inches
Wheelbase: 33.75 inches
Shape: Drop through pin tail. Deep concave with oversized cut-outs
Construction: 6-ply Hardrock Canadian Maple. Bottom ply smoked bamboo with a natural GT stripe inlay
Trucks: 7 inch RK trucks with reversible hanger and Mindless 83A SHR soft cushions
Wheels: Mindless Shifta 76mm, 83A
Bearings: ABEC 9 chrome
With the essence of the original Maverick still present, this longboard features drop through trucks to lower your centre of gravity for greaty stability.
Oversized cut-outs and a reversible hanger let you totally customise your board to best suit your riding style. Made using a brand new pressing technique and epoxy glue, the Mindless DT II Longboard provides the most responsive ride ever.
 
 
 
---
Freestyle
Boards like this are popular for freestyle or longboard 'dancing'. Small but functional kicktails help the rider get the board in the air and wide foot platform is great for old-school moves like 'crosstepping'.
 


Atom Artisan Drop Kick 
Features:
Length: 39 inches
Width: 8.7 inches
Construction: Stiff maple deck
Trucks: Die-cast aluminium, 50° reverse kingpin trucks
Hanger Width: 180mm
Bushings: 90A HR
Wheels: 70 x 42 mm, 82A SHR Freewheels
Bearings: ABEC 9 (8 x 22 mm)
The perfect blend of drop-through and a kick-tail deck, Atom's Artisan longboard provides the answer for those who have been toiling with that question of 'skateboard or longboard?'…both.
With the stability and cruisability of a longboard and the versatility of a skateboard, the Artisan is one hell of a ride.
 
 


Landyachtz Freedom Hatchet 
Features:
Trucks: Polar Bear Raw 155mm Trucks
Wheels: Hawgs 63mm 78A Wheels – Marble Orange
Bearings: Bear Spaceballs Abec 7 Bearings
Length: 40.35
Width: 9.3
Wheelbase: 27.4
The Hatchet is a necessity to survival.
The sharpest tool for carving with a firm handle on flatland tricks.
The Hatchet is never a dull moment!
 
 
 
 
---
More from Surfdome >