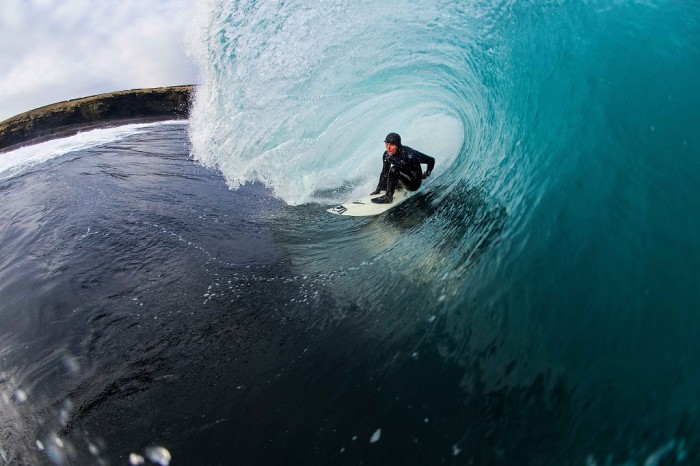 Can we live without plastic?
It's a simple question, and the simple answer is no. We asked this on the surf trip I am currently on and surfer Micah Lester challenged himself to a day without plastic. Immediately it is impossible, we have to drive a car with plastic, Micah wears a wetsuit with plastic on it and rides a board with a leash and at the very least fin plugs being plastic derived. These are all essential items to what he does, but they are also long term items, I'm not saying they are good, but he is going to use them over and over again, and hopefully for some time. So the question shifted a little, can we choose to live our everyday lives without creating short term plastic waste?
So let's see if we can close the loop and stop using plastic and still live.
Breakfast
Immediately there is a huge issue, the milk is in a plastic container, how do you get round this? Well in the town we are in you can't, yes it's recyclable but there are no alternatives, for our convenience and profit glass bottles are long gone, so no cereal, which cuts out more plastic. We have four kinds in the house and all have the cereal sitting in a plastic bag within the cardboard box. Likewise, our bread is wrapped in plastic, our butter is in a plastic tub which leaves the only non-plastic affected food item, a banana as breakfast. We do have coffee as well, and as we bought from an actual grinder it is in a paper bag and combined with a steel cafetiere, Micah has black coffee.
You can start to see our reliance on this stuff, especially for keeping food fresh, so with this in mind, we headed to the supermarket.
The Shop
We could have been in any supermarket but we had no choice but to shop in a Tesco or Co-Op, no organic shops, no markets, pretty standard for everyday living. But here is the problem, we could buy virtually nothing we wanted without plastic packaging. Most of the veggies were pre-packed, more than a usual supermarket possibly because of our remote location. Those that weren't, were few and far between, and only really peppers and potatoes could go in loose, the alternative was to pack them in a store-provided plastic bag. Elsewhere it was no different, we couldn't buy milk without plastic, bread without plastic, coffee without plastic, meat without plastic the only things we could buy which had zero plastic were Eggs. When you actually think about that for a moment in a whole supermarket, of things we actually wanted to only totally non-plastic item we wanted was eggs.
[su_carousel source="media: 35687,35686″ limit="10″ link="lightbox" width="700″ height="200″ items="3″ title="no"][su_carousel source="media: 34345,34346,34347″ limit="10″ link="lightbox" width="700″ height="200″ title="no"] [/su_carousel] The Cafe
Needing sustenance we headed to the local harbor cafe for tea and cake. Now obviously any eatery is going to buy all of its food, probably wrapped in plastic so what to do? Well, that bacon sarnie was out of the question, but the homemade cake was Ok, right? Well, it was and wasn't. The actual cake hadn't seen an ounce of plastic, but it's ingredients probably had, and so had the coffee we drank, but not out of single-use cups.
The Evening
One thing that doesn't come wrapped in plastic though is a good old fashioned bottle of beer right? No please, there is plastic? There is, the last pleasure of the day is tarnished by that little bit of rubbery like plastic based substance just under the cap to help with the seal to keep it fresh. So very little food and now no beer, plastic had beaten us.
So what's the point here? Well if we are going to become sustainable, cut down plastic and thus remove the chance of more entering the environment this has to change. We were in a typical provincial town in the UK, it had no alternative when it came to fresh produce, and we struggled to buy everything we needed without plastic surrounding it. So whilst we are trying to make a change, we couldn't, the opportunity isn't there, so what can be done.
Well it's tough, but we have to tell big supermarkets what we want, and the weight of numbers will then affect the supply chain and packaging will have to change, I know that sounds impossible, but likely the biggest shift in the scale of plastic usage will come this way. One thing we can do is take reusable bags for vegetables, I now do it at home, it's easy, and cuts down on about ten plastic bags a week. There is also an option of using markets and independent organic shops, but that's not always easy, and let's face it hurts in the pocket.
[su_carousel source="media: 35690,35689″ limit="10″ link="lightbox" width="700″ height="200″ title="no"][su_carousel source="media: 34345,34346,34347″ limit="10″ link="lightbox" width="700″ height="200″ title="no"] [/su_carousel][/su_carousel] The point of this is to show how hard it is to cut out buying stuff wrapped in plastic, and it's this stuff which is being bought by the millions every minute of the day, which ends up in the sea. It's daunting and hard to see how everyone closes the loop so we can enter a truly circular economy when it comes to plastic. It has to start somewhere, and hopefully, our children will look back in 70 years time and not think, jeez my parent's generation screwed up this planet, but hey, they started a revolution.
 
---
Follow the Journey