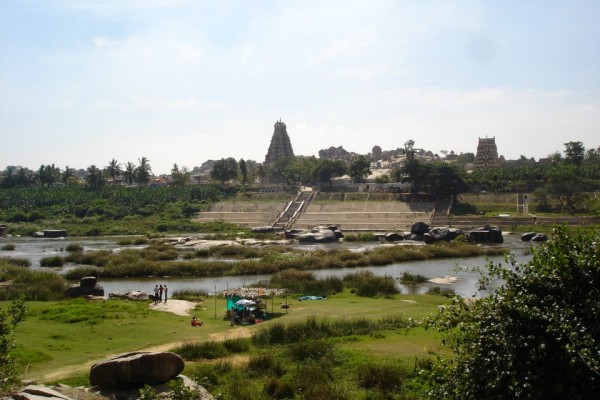 Why Hampi?
Hampi, a small town in southern Karnataka, is home to one of the most breathtaking sites in all of India. Difficult to travel to, remote and still very much untouched, the former capital of the almighty Vijayanagara Empire was built almost 1000 years ago. The kings of old have long gone though, instead replaced by families of territorial monkeys and Indian people that have transformed temples into makeshift homes. Brave the long coach or train ride because it is arguably the most memorable place you'll visit.
Where to stay?
In Hampi, you have three options. Stay on the temple side of the river and have the incredible sights on your doorstep but you'll pay more for somewhat dubious accommodation. Alternatively, the other bank has a social cluster of hostels. Travellers from all over congregate on wooden verandas at night swapping stories, smoking hookah and enjoying very cheap beer. You're more likely to get an inexpensive private hut too – a rare luxury on the travelling circuit. Or, stay out in the countryside and enjoy the eccentricities of rural India. We may have experienced 6am wake-up calls from a tractor blaring out bhangra music and a hotel owner that listed his hobbies as 'shotgun', but it was a fun experience nonetheless.
Things to see?
Seriously, where do you start? Towering temples litter the whole site with smaller shrines, canals, tombs and bridges for you to visit too. There's plenty of climbing and hiking to be undertaken so pack your sun tan lotion and as much water as you can carry. You'll need it. Pampa Sarovara is the largest (and busiest) of the temples on the Hampi side of the river. There's a small admission fee but there's a chance to see Lakshmi the elephant and if you're up early enough, she'll be bathing in the water by the ferry crossing. Finish your trip with a sunrise view at the Hanuman Temple surrounded by monkeys – a real highlight.
What to eat?
Carnivores beware. On the temple side of Hampi, eating meat and drinking alcohol is strictly forbidden due to religious reasons. There are plenty of vegetarian alternatives though and it's a great chance to broaden your pallet. The other bank has all of the usual Indian cuisine; tandoori chicken, pav bhaji and phuhchka that taste incredible. Eating at busier places usually is a good sign and unless you have a stomach made of asbestos, don't eat anything you don't 100% trust.
Getting around?
Reaching Hampi is a little difficult. Trains require an advanced booking and a lot of paperwork so it's best to sort it through an agency for a small charge. Coaches are in abundance and fairly comfortable but don't count on a good sleep – potholes are a plenty on undeveloped Hampi roads. Once you're there, arrange a fee with a rickshaw driver to transport you around all day so you can take in the sights at your own leisure.
Top tip?
Hire a motorobike (don't fear, the roads are incredibly quiet) and drive 10 minutes to Lake Sanapur. As one of India's biggest reservoirs, it's a picturesque and refreshing retreat in the Karnataka hills. Swim, sail or dive from the rocky heights – it's all good fun and you'll meet countless other travellers doing the same.