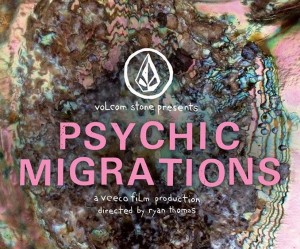 Who would have thought that a surf film, let alone a Volcom surf film would create that much buzz in a city miles away from any waves? Judging by the hooting and the cheering coming from the packed out Prince Charles theatre in central London, this is a film worth seeing. Plus it's great to sit back in a cinema, drink a beer and watch surfing on a big screen for a change.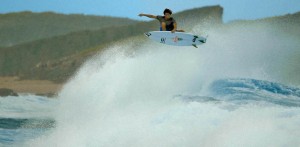 Undoubtedly, one of the best surf films to be released this year, Volcom have managed to  capture on film some of the best free surfing whilst still adding the usual psychedelic imagery we've come to expect from this ever-conceptual brand.  It's simply not possible to list everything that is good about this movie, you just need to check it out for yourself, but if you need to be convinced how does the sound of Ryan Burch shaping and riding a rainbow twin fin with the greatest of ease make you feel? It's nice to see the twinny getting a bit more screen time and not just being ridden by Rob Machado. The level of speed as Ryan smoothly tears up the face of wave after wave will definitely see an increase in hipsters hunting down a new twin fin.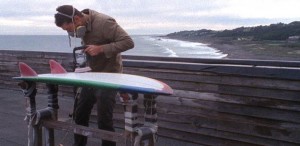 Let's not detract from how great it was to see Ozzie Wright doing that thing he does so well being caught on film. Arguably, this original hipsters' style just blows everyone out of the water (pardon the pun) and watching him ride that dotted Vampirate stumpy was a breath of fresh air whilst he had his toes over the nose. It reminded us that it's not just the Brazilians who are doing it well today. He may have lost the best-hair-in-surfing award to Carlos Munoz whose surfing is just out of this world and is still managing to keep his hair dry.
The biggest surprise, and probably getting the loudest cheer of the night, was when a cameo from none other than Mr. Kelly Slater himself appeared on the screen. Say what you will about this guy, he can show up and get himself a few waves going head to head with Alex Gray in a Volcom movie and not even look out of place… is there anything this guy can't do?
Whether its huge airs or long barrels you are after, this film has captured it all. High-quality imagery and a soundtrack which was weirdly fitting, the only downside was it did leave us asking where is that wave? As with zero text on screen the audience had to guess and argue after.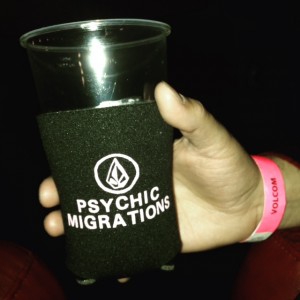 The guys from Volcom have done a great job, even giving us a chance to grab a beer and talk crap with Nate Tyler after the screening. If you see one film this year, make it Psychic Migrations… you won't regret it!
---
More from Surfdome >