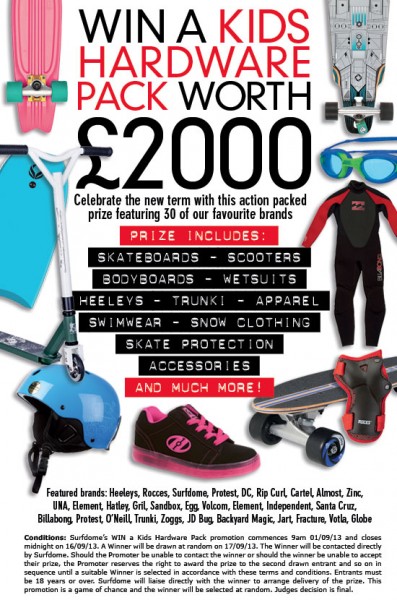 We understand that there might be some back to school gloom around at the moment. On top of that it looks like Autumn's well and truly steering itself into our skies as well. So, in response we are launching a competition to raise the spirits of any school kids who have a bit of new term glumness with a mind boggling amount of free hardware.
Featuring world renowned brands like Hurley, Element, Volcom and Globe as well as a generous allowance of our own finely tuned and tested Surfdome equipment. Everything a budding young action sports nut could want for surf, skate or snow is up for grabs. It's blissfully easy to enter; just fill in your details, hope, wait and see. A couple of grand's worth of top quality hardware may end up cheering up some young gun you know with the back to school blues.
Click here to enter, and good luck.