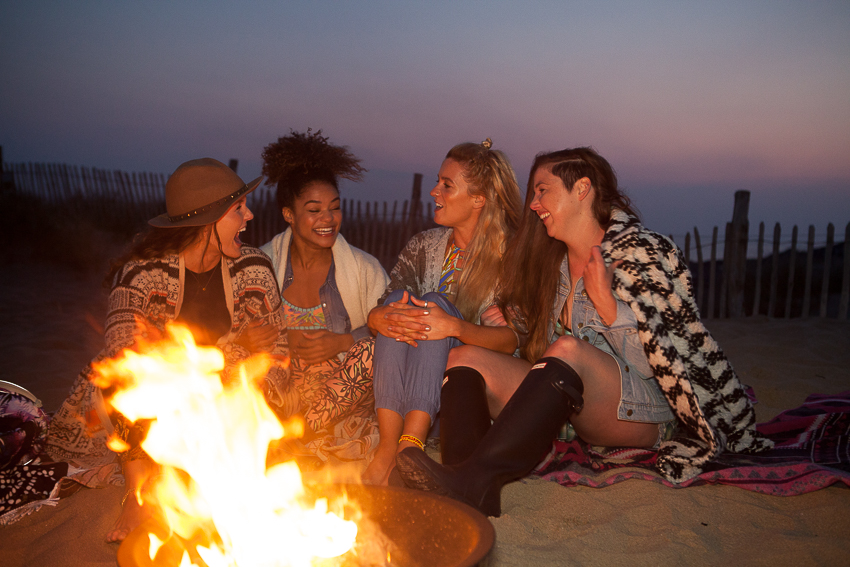 Vogue it, shake it, rock it, dance it; that's right it's time to get your festival on! And when it comes to festivals, you'll be needing an outfit which'll see you through all that dancing under summer sunsets to live music and finding free-spirited moments with friends. By outfit – we mean a bikini. Sure, build around it with dungarees, floral maxi dresses, denim shorts and a boho cardigan, but the bikini is your staple – or as we like to think of it, your summer underwear, but so much better!
Swimwear doesn't just have to be for… well, swimming. It's a summer base layer, a tool for adding a pop of colour or clashing prints, and it's going to take you through from morning to night and sunrise to sunset. So, whether you're a one-piece or two-piece kind of girl, you'll need to be wearing the right piece for the kind of festival goer you are. Luckily we've put together our guide to that summer festival essential based on you. So whatever your jam, make sure you've got a bikini to go with that…
---
The Chiller
You're the one that enjoys the simplicity of being with friends and taking in some fresh summer air, all while listening to some seriously good live music. You'll most likely be found on a small patch of grass, laying on your favourite blanket, with your favourite people and hopping up now and then to dance along to chilled beats. Cider optional, but probable. So why not invest in a chilled out one-piece with a mesmerising print? It's sure to keep you looking stylish while adding a pop of colour to those mellow vibes as you soak up the summer sun.
Festivals you'll love: Glasto, Latitude, Secret Garden Party, Wilderness, Greenman (all UK), Sziget (Budapest)
The festival bikini for you: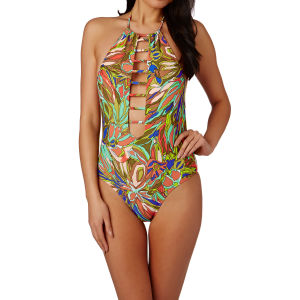 Volcom Faded Flowers swimsuit
---
The Explorer
You're the one who can't sit still – you're sense of adventure is just luring you to every single corner of the festival. You're guaranteed to get up to mischief; you'll get messy, make new friends, taste new foods… you might even run into the band or get lost and reappear the next morning miles from where you left off. But one thing is for sure – you discover all the best parts of the festival. So strap into a bikini that'll have your back as you adventure into every corner and embrace every spontaneous moment that may arise.
Festivals you'll love: Benicassim (Spain), Outlook (Croatia), Exit (Serbia), Tomorrowland (Denmark) ,Lullapalooza (Berlin) and Glasto (UK)
The festival bikini for you: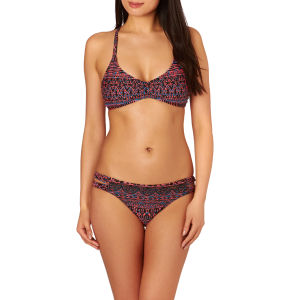 Protest Mysticka bikini set
---
The Dancer
You're in the middle of it all – in fact you've probably managed to weave your way to some part of the crowd that's vaguely near the front – and you are there to dance! You'll be bouncing around to the upbeat tunes (and probably still bouncing around to the downbeat ones) so make sure you have a bikini with a buzzy print to reflect fun-you and good support to hold everything in place so you can dance freely until the sun comes up. Because let's face it, the party only stops when you decide it's time to sleep – and that's for when you're back home in your house…
Festivals you'll love: Tomorrowland (Denmark), Boomtown (UK), Wireless (UK), Greenman (Wales), Hideout (Croatia), Outlook (Croatia)
The festival bikini for you: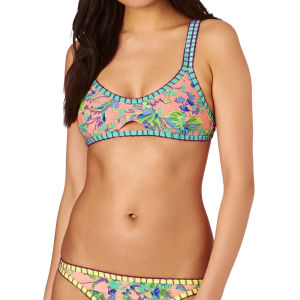 Minkpink Staring at Sunsets bikini top,

 Minkpink Staring at Sunsets bikini bottoms
---
The Activity Freak 

 
Like the explorer, you can't sit still. But, unlike the explorer you want more that a solid boogie and walking to every corner of the festival ground. You want to surf waves, skate mini ramps and get your yoga on… all to the sound of live music. And you can have all that! Because you'll be expending a good dose of that insane amount of energy you always seem to have, you'll need a base layer of swimwear that'll keep you covered whatever position you end up in. Whether you're popping up on a surfboard, cruising that long board or getting tangled up in Bird of Paradise pose, be sure to invest in something comfortable and stylish.
Festivals you'll love: Boardmasters (UK), NASS skate festival (UK), Meadows in the Mountains (Bulgaria)
The festival bikini for you: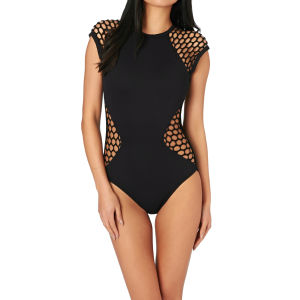 Seafolly Mesh About Cap Sleeve Maillot swimsuit
---
The Environmentalist
You care about sustainability, keeping our planet beautiful and enjoy releasing your inner hippy. We get it though – you won't be dressing head to toe in hemp with a full size dream-catcher hanging round your neck and half your neighbour's shrub in your hair that flowered last week. You still want to express your fun sense of style and have a freaking awesome time at the festival without harming your ethical values. Keep it real and invest in a bikini made of recycled plastic bottles for your festival escapades. Yes, it's really a thing and no, it looks nothing like plastic bottles now…
Festivals you'll love: Mysteryland (Amsterdam), Meadows in the Mountains (Bulgaria), Greenman (Wales), Glasto (UK), Summer Solstice (double check sustainability) (Iceland) 
The festival bikini for you: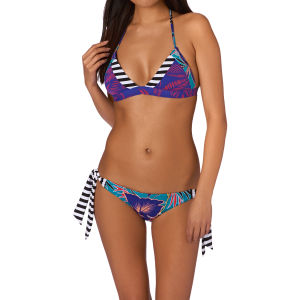 Roxy Polynesia Mix Pop Surf bikini top, Roxy Polynesia Mix Pop Surf bikini bottoms
---
The First Timer
So, you're about to pop your festival virginity. You're a bit unsure of this whole thing – you're mates just tell you you're absolutely going to love whichever crazy festival they've signed you up to. And you trust them. Just trust us now because you'll be needing a bikini which will not only support you as you discover the kind of festival girl you really are, but which also adds a solid block of colour – just because anything goes when it comes to festival style mash-ups, so let your hair down girl, mix it up in some bright colours and go with the flow…
Festivals you'll love: Bestival (UK), Latitude (UK), Secret garden Party (UK), Sziget (Budapest), Lovebox (Victoria Park, London), Wireless, South West Four (Clapham, London)
The festival bikini for you: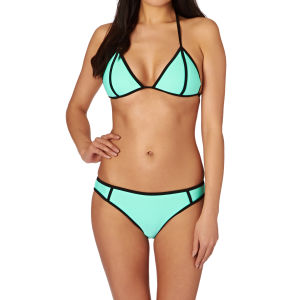 SWELL Charlotte triangle bikini top, SWELL Elizabeth bikini bottom
---