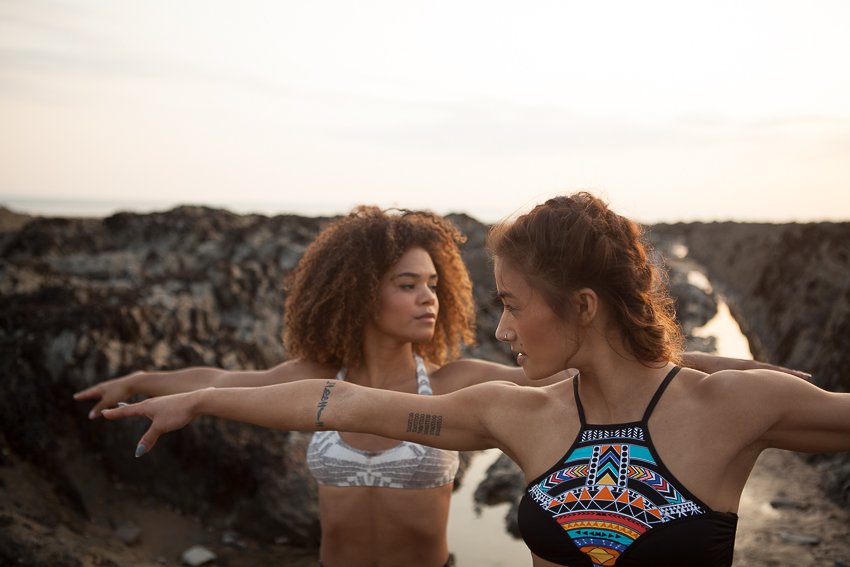 These women are yogis, dancers and free spirits. They don't do it because it's trendy, or because they want to be the next big thing on Instagram. No. They do it to find inner peace, to celebrate what they love doing, to be mindful. And when it comes to bikinis, these women don't reserve them for splashing in the salty stuff and gliding through the water in a swimming session. They stretch it, bend it and twist it; and they always make sure they have a bikini that won't stop them moving.
From doing Vinyasa yoga under balmy tropical sunsets to voguing it at beachside barbecues with friends: these women live in their bikini. We met these real women whose attitudes say so much more than the makeup on their face and the clothes on their back. This is Vicki and Joana. And this is how they take their bikini so much further than the beach… This is how they work it.
---
Vicki L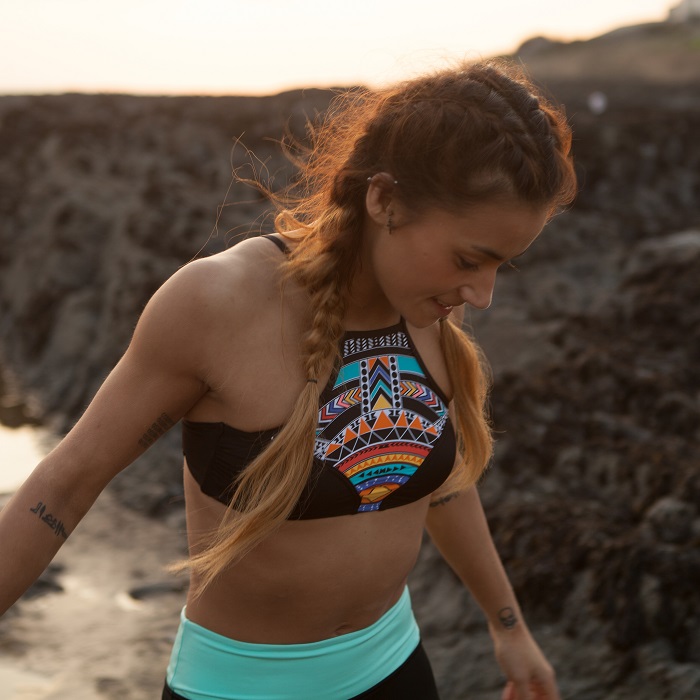 Vicki wears: Rip Curl Tribal Myth Bikini Top, Swell Manorbier Surf Leggings
Why do you love yoga?
I love the peacefulness and what it does to your mind. Obviously, having a career in dance, it's very up and down – you never know what's going on. I don't know my schedule from week to week. My mum will say to me, "oh, are you free to come home on this day in 3 months' time?' And my answer is always, "Mum, I don't know what I'm doing tomorrow."
How does yoga help your 'up and down' lifestyle?
To be up and down can get quite stressful, so to find something where you can just shut off – especially in the age that we're living in now with everything [on] and being in London where everything's so 'go-go-go' and everyone's so preoccupied – it's nice to just do what your body wants for an hour. It's helpful to shut things out and have some control over your mind, be in silence and focus for an hour or however long. It's good to train your mind to let go of everything. Everyone's got their own stuff going on in their lives and it's nice to just let go and be at one with yourself.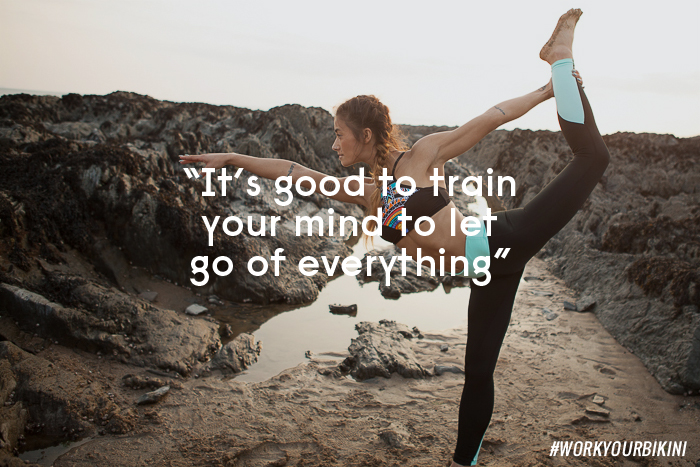 ---
Joana B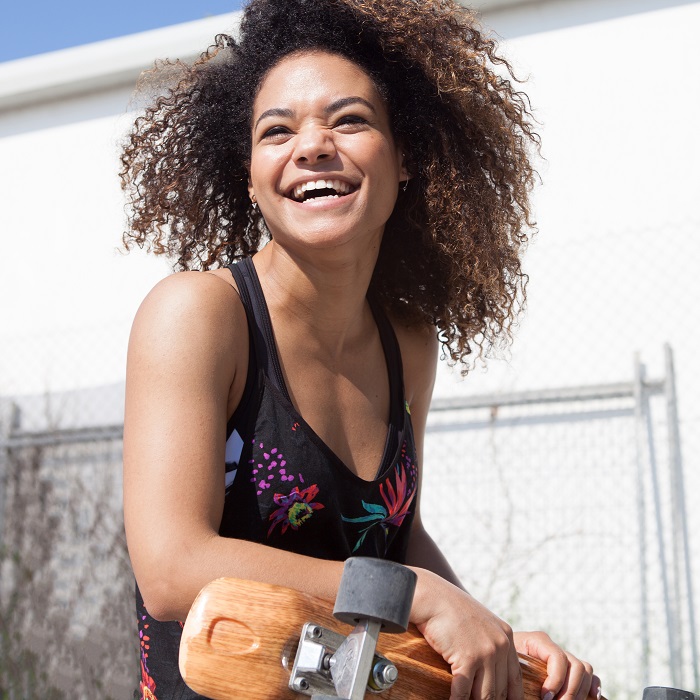 Joana wears: Rip Curl Mirage Kaleidoscope Halter Bikini Top (worn under cami), Rusty Paradise Cami top
What's your favourite activity?
I love fitness. I love working out – most of all running. I can't survive without running. It keeps me sane, it frees my mind, it's exercise that I can't live without it. I run for half an hour or an hour, however long… I just run until I'm free. That's how I cope with having too much energy in my body. I release it and that's why running for me is life. It's part of my life now and I use it as a method to keep myself sane.
What about skateboarding – you've got your Penny which you love. What got you into that?
Basically, I had a really bad break-up with this guy who was just really not right for me. It was so bad and took me to a place mentally that I've never been before. I used to be so ashamed to say that but now I'm like "no" because I'm sure there have been other women who have felt the same.
What happened?
I was so lost and when it all went down I just lost my path. So then I decided that I would do things that I've never done before and I decided that I was going to become a better 'me' again – I was going to challenge myself every day. It was funny because I remember coming out of that dark place and work started picking up: I was travelling, I was working, I was loving life and then I was like "what's the next step? I'm going to do what I've always wanted to do, I'm going to skateboard!" So I got a Penny; I bought it without even knowing anything, I just researched a nice, small skateboard for short people [laughs] and I saw Penny boards and I was like "oh this is so cute" so I ordered one. It came and I was like, "now what do I do?" Youtube –  literally, that's how I started. I saw videos and learnt that way!
Where were you when you started learning?
At first it was just around my house. I was scared that people would see me fall and was even scared of people just seeing me walking with a board, without actually being on it! Then I started getting a little bit confident so I started going into town with it. I started doing the shopping with it and then I went to LA for two months and I was like "I'm going to take my Penny board with me!" It became my way of transportation. Now I feel so confident because it's something that I started on my own, for myself. To keep doing it, it has to be with me, and from me.
So does that feel empowering?
I can definitely do whatever I want with my life – if I take the initiative, I'm going to learn it, I'm going to do it – that's what I've taken away from learning. I don't have to come out of here a professional, but it's the same step I took with the Penny – if I don't take it, I won't do it. It's going to sound cheesy but it's true. It just makes me feel (I don't want to use the word powerful because I don't like that word), but it makes me feel self-sufficient.
So would you say that's your motivation as well, just doing stuff for yourself?
It should always be that. Always. I've learnt that self-love is what actually gets you going, especially in this industry where I am. People love knocking you down. If you knock me down that's fine, because I will pick myself up. I will join someone else's journey, I'm not just a dancer. I'm not right for you but I have other talents, and if I can't, I'll train myself and be the best that I can.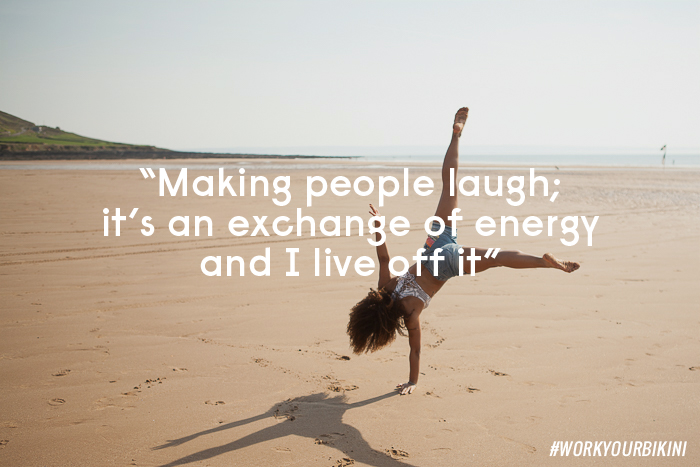 Joana wears: Rip Curl Solstice Bra Bikini Top, Rip Curl Cholla Walkshort Denim Shorts
What makes you feel confident in your bikini?
When I was growing up I had stretch marks. None of my friends had them and it made me feel less confident. But now the bikini which makes me confident is the smallest bikini you can think of! I'm so confident in it. My friends who have completely different body shapes love that kind of bikini too! We celebrate our bodies, the way they are right now. All of our muscles and stretch marks and cellulite – it's what we've been doing in our life – it's a life story in our bodies. Instead of hiding, accept what it is and that it's going to be with you for the rest of your life. I'm like: "I've got my bum cheeks out – and what?!"
Have you got any tips for women for styling their bikini from the beach to the streets?
I love wearing my bikini top to the beach, but I wear my bikini top everywhere! To go to dinner, to walk around in dungarees with a bikini underneath. I always choose very comfortable bikinis, so I don't have to worry about checking it all the time.
I think that girls should always check their body shape. And it's nothing to be ashamed of if you're different from your girlfriends. That's not the point. These days with the internet, research your body shape. There will be something that will make your body look amazing and make you feel good. Just the fact that you feel good, you instantly look good – because you feel good! I bought a bikini the other day and wear it under mesh tops too – it just gives that little bit of swag. And I love styling, I'm crazy when it comes to styling and clothes. People look at me crazy and I'm like "yeah that's three pieces of clothing that I put together, pam pam pam! I did it!" Every summer you are a different person; a year has gone by and you are maybe bigger or thinner or different or happier or sadder – whatever! I do think every summer you should buy a new bikini or make your old bikini new! Switch it up.
What keeps you smiling in life?
Making people laugh; it's an exchange of energy and I live off it! Make people happy and laugh from a genuine place – it will make you happy too, right? It's so good to just be yourself and make people happy. Sometimes that's what you need: someone to bust out a stupid joke that will bring a smile to your face and their face.  
---
[su_carousel source="media: 36581,36582,36583,36584,36585,36588,36589,36590,36587,36591″ limit="21″ link="lightbox" width="700″ height="200″ title="no"][su_carousel source="media: 34345,34346,34347″ limit="10″ link="lightbox" width="700″ height="200″ title="no"] [/su_carousel]
---